Non-Indictment In Tamir Rice Killing Proves Once Again That America Is Broken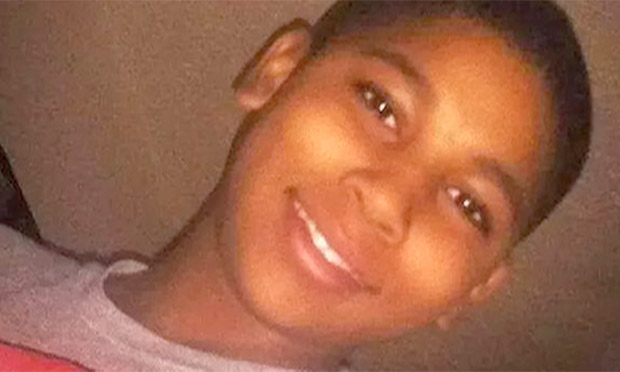 In a scene that we've already seen played out numerous times in the past year or so, yet another police officer who needlessly shot and killed a young unarmed black male was allowed to walk away scot-free after a grand jury said everything was all good. Cleveland Police Officer Timothy Loehmann will not be indicted for the shooting death of Tamir Rice, per the findings of a Cuyahoga County grand jury, which was announced by prosecutor Tim McGinty on Monday afternoon.
Rice was shot dead by Loehmann after he and his partner pulled up next to the 12-year-old last November. The young man was carrying a toy pellet pistol in a park, and officers were called to the scene due to concerns from a witness who felt Rice might be threatening people with a real gun. Despite the caller saying he thought the gun was "probably fake" and the individual was likely a juvenile, the two officers drove their car right up next to Rice and Loehmann shot him dead within two seconds.
Even though Loehmann was previously deemed unfit to be a police officer by a previous employer, and the video showed the extremely short amount of time it took for Loehmann to use deadly force, the grand jury felt there was not enough evidence to charge the officer with a crime. Of course, McGinty could have charged Loehmann himself, but as we've seen in cases such as Michael Brown, Eric Garner and John Crawford III, the justice system would rather use the grand jury as an end-around to allow officers a way to get off while the prosecutors can claim they've done 'all they can.' (McGinty, however, recommended the grand jury not indict either officer.)
Obviously, we should expect widespread protests in response to this decision. Considering that a young boy with a toy was quickly mowed down by an officer who should have never been hired in the first place, only to have 400 days pass before the system says the officer did nothing wrong, then a vocal and physical expression of disgust is definitely in the cards. And who can blame anyone for reacting that way, seriously?
The immediate reaction from many involved in Black Lives Matter and those sympathetic to the cause was one of tired resignation, as they all knew this was going to be the end result. Sure, there was anger and grief, but there wasn't disbelief.
This is exactly what was expected, re; #TamirRice And that is SOUL-CRUSHINGLY terrible. pic.twitter.com/lMMuGHrorf

— Steve Marmel (@Marmel) December 28, 2015
White supremacy is when a jury finds it reasonable for police to perceive a 12 yr old boy with a toy to be a grown man with a gun.#TamirRice

— Samuel Sinyangwe (@samswey) December 28, 2015
And they would would take a whole year and then make this announcement during the holidays. Just twist the knife then… #TamirRice

— Charles M. Blow (@CharlesMBlow) December 28, 2015
It took 2 seconds to decide to shoot a child and over a year to decide there should be no consequences. #TamirRice https://t.co/cjRpLZisQV

— My Daughter's Army (@mydaughtersarmy) December 28, 2015
#TamirRice was a child. He deserved better from the world. And now he deserves justice.

— Margaret Cho (@margaretcho) December 28, 2015
The saddest part: I knew his would happen. I just knew it. What kind of life is that? #TamirRice

— Brittany Packnett (@MsPackyetti) December 28, 2015
Two seconds to kill him. Four Hundred days to craft the justification as to why no one is accountable. #TamirRice pic.twitter.com/30RwmV0Zrj

— Steve Marmel (@Marmel) December 28, 2015
America, you are broken. This is not who we are. We shouldn't expect this. We shouldn't accept this. This needs to change. Now.