Simultaneously Raunchy And Warmhearted, 'The Night Before' Is Bound To Be A Holiday Favorite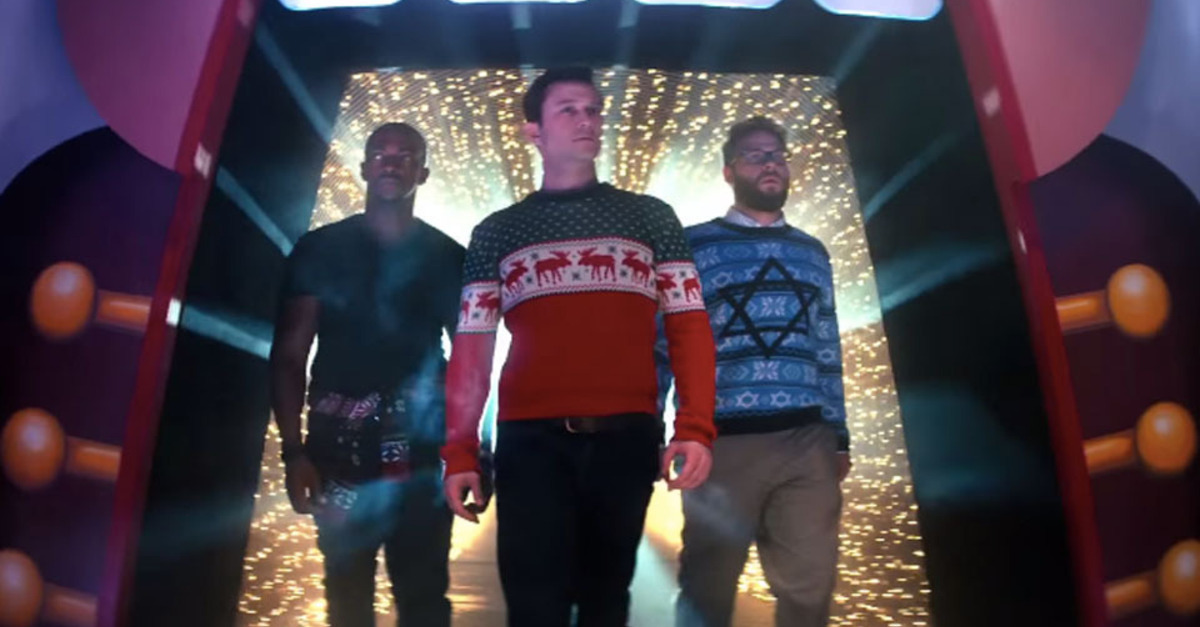 The main goal of any comedy is to make its audience laugh as often as possible. In essence, the more laughs a funny film produces, the better the movie is. Looking at it through those simplistic lenses, The Night Before is a raging success, as I laughed throughout its 101 minutes. However, at its raucous and raunchy core, this is really a coming-of-age heart-tugger about a group of childhood friends dealing with the changes adulthood has brought upon their lives. And The Night Before is all the better for this.
Ethan (Joseph Gordon-Levitt), Chris (Anthony Mackie) and Isaac (Seth Rogen) are three close buddies who have spent every Christmas Eve together since high school. More than a decade prior, Chris and Isaac took Ethan out to celebrate a night of debauchery on the holiday to help get over the death of both of his parents, and the holiday outing, consisting of karaoke singing, visiting Rockefeller Center and wearing ugly X-Mas sweaters, has become an annual tradition. However, now that they are approaching their mid-30s, the friends have agreed to finally end it with one final night out.
Of course, all three guys are dealing with their own personal shit at this juncture in their lives. Chris is a famous football player who has enjoyed a late-career resurgence due to his steroid use. Isaac is about to become a father for the first time and is trying to pretend to his wife Betsy (Jillian Bell) that he isn't freaked out about it. Meanwhile, Ethan appears to be stuck in an emotional and professional rut. He's a musician who won't produce music and has recently broken up with his girlfriend Diana (Lizzy Caplan) due to his unresolved issues surrounding his parents' death.
In a bit of fortuitous luck, Ethan finds himself in the possession of three tickets to the Nutcracker Ball, a famous Christmas party that the trio has long wanted to attend. Meanwhile, Betsy gives Isaac a box of drugs as a Hanukkah gift so he can enjoy this final get together with a bang. Chris is able to procure them a limo through his sponsorship deal with RedBull. However, early on in the evening, it is apparent to Ethan that the night won't be as fun as in the past, as Chris is too concerned with impressing his team's star quarterback and Isaac's over-the-top drug consumption is creating issues, especially when they run into Diana and her friend Sarah (Mindy Kaling).
As they try to make their way to the party, Chris and Isaac separate from Ethan as they are preoccupied with their own dilemmas. Isaac has lost his phone and wanders the city in a drugged-up stupor in an effort to find it, leading to him somehow attending midnight mass with his wife and her family. As for Chris, he spends much of the night chasing after a Christmas-hating woman (Ilana Glazer) who stole his weed (twice!) after a hook-up in a bar bathroom. All the while, a seer-like pot dealer (Michael Shannon) pops in and out to dispense sage advice and high-end bud.
In the end, we get to see the party they've always wanted to attend and are treated to a couple of very funny celebrity cameos. And as you'd imagine, the film ends on a high note, with the friends all realizing how much they mean to each other and that they'll continue to remain like family through the years. The good thing here is that the whole thing doesn't feel forced or treacly. For a studio comedy with A-list stars, that is extremely refreshing and quite surprising.
All three leads turn in funny and heartfelt performances, and display an amazing chemistry together. It feels like they've been friends since high school. For the most part, the gags all land, and land well. I couldn't remember a time while watching this film where I wasn't at least smiling. Kudos definitely to director/writer Jonathan Levine (Warm Bodies, 50/50) for giving us a holiday comedy that isn't heavy-handed on the messaging while also not tossing out half-assed Christmas jokes that make you groan more than chuckle.
Grade: B+