'Captain America' Actor Anthony Mackie Thinks Trump "Worked His Way Up From Nothing"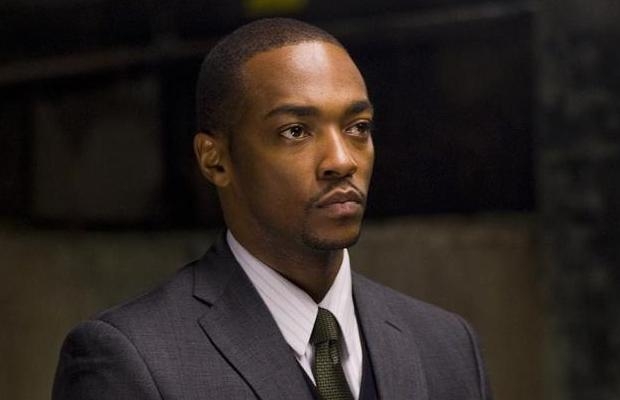 During an interview he gave to BET promoting his upcoming film Our Brand Is Crisis, actor Anthony Mackie got himself into hot water by endorsing GOP Presidential frontrunner Donald Trump. Now, mind you, it wasn't the endorsement that actually set Mackie up for widespread mockery. No, it was his insistence that the celebrity billionaire and born-rick Wharton grad appealed to him because he was a "guy who worked his way up from nothing."
From BET's article:
"I would 100 percent want to run Trump's campaign. 100 percent," he said. "I mean, first that'll be the best party ever when he won, and second, Trump's an easy sell… When you look at Trump, he's an easy sell because you can sell him as the guy who worked his way up from nothing. And I think if you're a 'pull yourself up by your bootstraps' candidate, people would identify with that."
So, does all this praise mean that Mackie is backing Trump for the 2016 presidency? It seems so: "I'm on the bandwagon," he said. "I'm drinking the Kool-Aid!"
It should be pointed out to Mackie that Trump's father made a fortune in real estate development and was worth $300 million when he passed away in 1999. The Donald is the very epitome of someone being born with a silver spoon lodged firmly in his ass. The sad thing is Mackie is actually going around and promoting a movie that is about political strategy and messaging. You'd think he'd have at least a tiny bit of knowledge about today's political landscape and the candidates running, at least just for research sake.
Anyway, Mackie's dumbass comments wasn't lost on the Twittersphere, and he was dragged all over social media Monday afternoon.
Re: Anthony Mackie pic.twitter.com/EZ3FYGtmWt

— Blacktain America (@KurosaraKokuou) October 19, 2015
Anthony Mackie says dreadlocks are a problem but supports Donald Trump whose hair looks like a bored puppy ripped it from a throw pillow wtf — fang chompsky (@nomchompsky) October 19, 2015
I hope Anthony Mackie is wearing a Go-Pro when the Drop Squad grabs him…

— LZ Granderson (@Locs_n_Laughs) October 19, 2015
Anthony Mackie could have at least given us a Spoiler Warning before announcing he's been working for Hydra all along. — Geoff LaTulippe (@DrGMLaTulippe) October 19, 2015
Anthony Mackie's endorsement of Donald Trump comes as no surprise. He went to CRANBROOK, THAT'S A PRIVATE SCHOOL!!! pic.twitter.com/TwK88VoI2l

— ok. (@Ok_Ukah) October 19, 2015
Anthony Mackie likes Donald trump pic.twitter.com/8lrWqCIQtx — Agent Dorian (@AgentDorian) October 19, 2015
Ever notice how you never see Anthony Mackie and Stacey Dash in the same place at the same time?

— David F Walker (@DavidWalker1201) October 19, 2015
  Below is video of his interview, courtesy of BET:
UPDATE: Late Monday afternoon, Mackie sent out a tweet saying it was all just a bad attempt at a joke.
Sorry Donald, that wasn't an endorsement. Just a bad attempt at a joke, I guess? — Anthony Mackie (@AnthonyMackie) October 19, 2015