'Hamilton' Is The American Tragedy We Need Right Now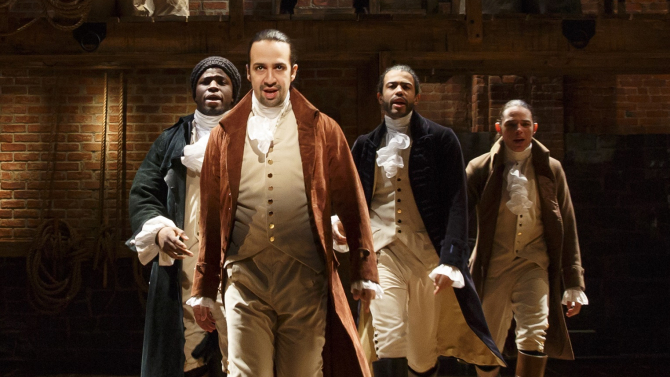 "How does a bastard orphan son of a whore/ and a Scotsman, dropped in the middle of a forgotten spot/ in the Caribbean, by Providence impoverished to squalor/ Grow up to be a hero and a scholar?"
Lin-Manuel Miranda raps the words that he wrote in the opening of Hamilton: An American Musical, the show we didn't know we were waiting for.
Well, I've been waiting at least for a few months.  As a lifelong Broadway fan, I was half agony, half hope when I heard that Miranda, creator of the Tony Award-winning In the Heights, had created and was starring in a hip-hop musical based on the life of Alexander Hamilton.  The premise sounded too good to be true, but I wasn't yet a fan of Miranda.  For reasons I still can't put my finger on, In the Heights just didn't grab me.  Hamilton did, though.  I think you'd have to be made of stone not to fall in love with this album.
From the first to the last, Miranda's verbal acuity shines through every lyric.  His tight turns of phrase, clever rhymes, and unpredictable rhythms keep the listener's focus dead on.  The entire cast of the show is electrifying, their excitement palpable even when their live energy is filtered through a recording studio.  Musical highlights include the scrappy American Dream anthem "My Shot," the Beyonce-flavored "Helpless," sung by the talented Phillipa Soo in the role of Hamilton's wife Eliza, and Eliza's show-stopping breakup ballad "Burn."  King George III is given a series of light-hearted ditties; public debates and political negotiations are portrayed as rap battles crackling with energy.  It's good writing, and it's a well-constructed show.
But Hamilton is a lot more than clever and entertaining.  For those of you a little fuzzy on your memories of history class, here's a spoiler: Hamilton, the man, crashed and burned.  He rose to prominence as Washington's right-hand man in the Revolution, became a major voice at the Constitutional Convention, and established the foundation of our nation's economy as the first Secretary of the Treasury.  But he falls hard: there is a public scandal surrounding his affair with a woman whose husband extorted him, he is estranged from his wife, and his son dies in a duel.  And, of course, there is the famous matter of Hamilton and Burr.
Burr is present in the musical from the beginning, announcing in the opening number, "I'm the damn fool that shot him!"  The second song dramatizes their first meeting, and the penultimate song dramatizes their duel, in which Burr shoots Hamilton and then realizes, "the world was wide enough for both Hamilton and me."  The finale, entitled "Who Lives, Who Dies, Who Tells Your Story," dwells on the question of legacy: Burr cast as villain, and Eliza, who took Alexander back after the death of their son, dedicating the rest of her long life to doing charitable work and telling her husband's story.  The man who rose to astonishing heights, one of the original upwardly mobile "inspirational" men, lost everything, was shot by a lifelong frenemy, and had his legacy protected by the woman he didn't deserve.
Indeed, the tale of Hamilton is both inspirational and cautionary, and it's that bittersweet mix that America needs right now.  We are bedraggled, constantly fighting, and beginning to doubt the very existence of social mobility; we are no longer a people receptive to glib, Rodgers-and-Hammerstein-style happy endings.  We need a pick-me-up lest we sink into an infinite mire of unproductive cynicism.  Lin-Manuel Miranda is realistic, but he also strives to give us hope.
Eliza's sister Angelica tells her, "You have married an Icarus/ He's flown too close to the sun."  Miranda's Hamilton may be an Icarus, but it's hard to listen to the entirety of Hamilton and still maintain a desire to stay on the ground.  Hamilton is a galvanizing force for its audience, something I hope will inspire my generation and those coming up behind us to throw ourselves full force into the rebuilding of our democracy.  Miranda spits, "I'm just like my country/ I'm young, scrappy and hungry/ and I'm not throwin' away my shot."  This should be our anthem.
In 1970, Andrew Lloyd Weber and Tim Rice dropped an album called Jesus Christ Superstar, and it blew Broadway wide open.  It was not the first rock musical, (it closely followed Hair, another arguably generation-defining show), but it was the first to begin as an album and become a show.  With its roots in mass media and its message one of combined disillusionment and belief, Superstar was something new and explosive.  Listening to Hamilton, I felt how I imagined kids gathered around a record player in 1970, hearing the first paradigm-shifting guitar riffs of Superstar's overture, must have felt.  I knew cultural history was being made.
Does anybody have tickets to see Hamilton?  Because I would cheerfully commit murder to get hold of them.
Image via Variety