#BlackLivesMatter Activists Rip Ray Lewis After He Says "Remove The Word Black And Say Lives Matter"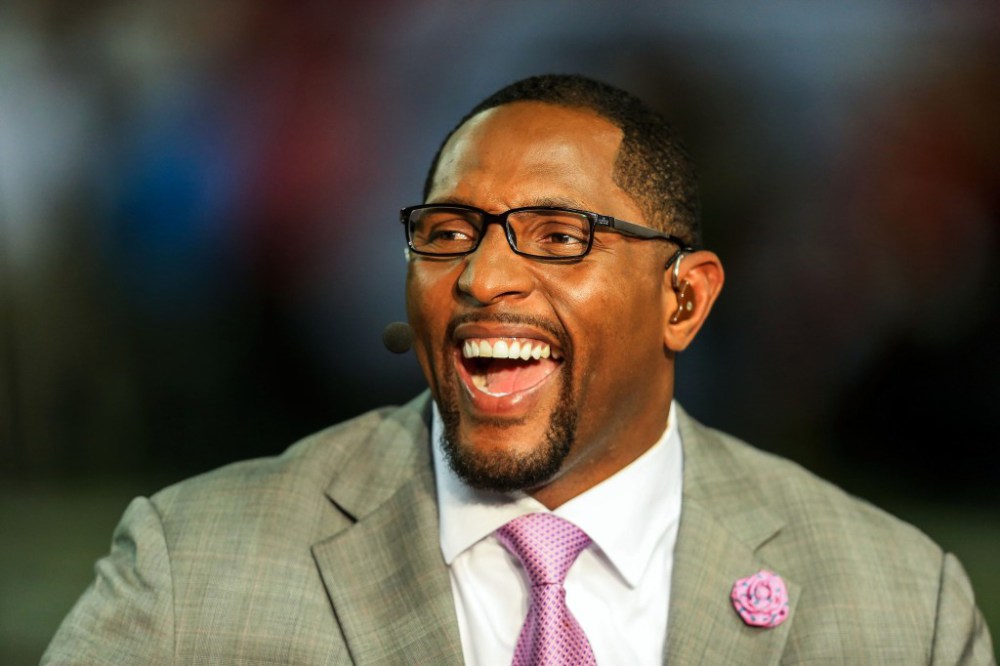 Former football star and Super Bowl MVP Ray Lewis is taking heat from black civil rights activists for comments he made about the Black Lives Matter movement during a public safety meeting in Newark, New Jersey earlier this week. Lewis, along with Football Hall of Famer Jim Brown, Newark Mayor Ras Baraka and others, attended the summit on Wednesday to discuss possible solutions to issues like gang violence and police brutality in inner cities.
According to NBC News' Khorri Atkinson, Lewis seemingly criticized the anti-police brutality protest movement by saying that we need to remove the word black from Black Lives Matter. He also stated that while inner-city poverty is an issue, African Americans need to essentially pull themselves up by their bootstraps.
The former Baltimore Ravens linebacker said while he understands that social conditions for Black people are among the worst nationwide, "it doesn't give people the excuse to kill each other."
"Remove the word black and say 'lives matter,'" he declared, in context of the Black Lives Matter movement. "Stop sending mothers back home empty. You can never replace a mother's child. If we want black lives matter, let's make it matter to us. That's the new call."
He later decried a culture wherein artists, radio transmissions and television shows inject violence into the lives of at-risk youths who lack guidance.
After NBC's post went up on Friday afternoon, a number of high-profile BLM activists and supporters took to social media to ridicule Lewis for playing the respectability politics card.
Why Ray?! pic.twitter.com/rEFt2lVuXR

— ShordeeDooWhop (@Nettaaaaaaaa) September 11, 2015
No, Unlce Ray. Just…no. https://t.co/HkBNnC2HZh

— Obi-Wan KeHomie (@kidnoble) September 11, 2015
Ray Lewis erasing "black" from BLM doesn't surprise. But it shows me how spineless a lot of these black celebs are.

— Cuffing Season G.M. (@DrTGIF) September 12, 2015
There's a joke in here somewhere RT @NBCBLK: .@raylewis says to "remove the word black and say 'lives matter.'" pic.twitter.com/Hb9d4e0UHV

— ChampagnePetty (@__Dutch) September 12, 2015
If it's not football, don't speak on it @raylewis https://t.co/Yk4RzingX5

— PEABODY™ (@AchaFlocka) September 11, 2015
Money made you lose touch @raylewis #BlackLivesMatter Don't forget it

— Bruce Banner III (@AD_Renaissance) September 12, 2015
Who can call Ray Lewis and let him know that "all lives matter" ain't it? Because this is the only tweet I've got for him tonight.

— deray mckesson (@deray) September 12, 2015
THIS IS A PROBLEM Former NFL Player Ray Lewis: 'Let's Make Lives Matter' http://t.co/Q7GmiZvbDD via @nbcnews

— Search4Swag (@search4swag) September 12, 2015
Since making national headlines in 2000 for his involvement in a double murder in Atlanta. He ended up pleading to obstruction of justice after testifying against two of his companions, who were later acquitted. He received a year probation and was fined $250,000 by the NFL. He went on to play 13 more seasons for the Baltimore Ravens. Since the killings, Lewis created a cottage industry for himself as a proselytizer and inspirational speaker, being sought out by athletic teams and organizations to give his trademarked nonsensical 'God is great' speeches.
In the end, his 'message' in regards to the BLM movement and racism in general pretty much fits with the brand he has created for himself. If you are looking for Christian platitudes and simplistic statements of affirmation mixed in a word-salad blender and delivered with outlandish passion, then Lewis is your man. If you are seeking well-reasoned thoughts on legitimate societal issues, then please look elsewhere.
Image via USA Today