Southern Pride! Michigan-Born Rockers Kid Rock And Ted Nugent Defend Their Confederate Flags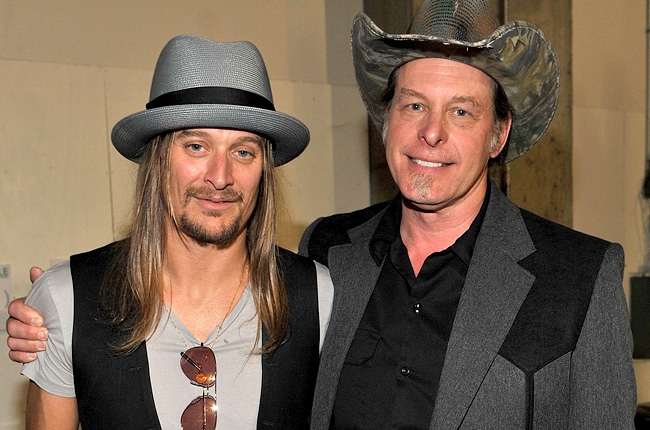 In perhaps the best example that the Confederate flag really has nothing to do with Southern pride or history and more to do with identifying with white rednecks, Michigan-born musicians Ted Nugent and Kid Rock fired back against critics of their use of the flag during shows or on their properties. Both musicians, who have become conservative icons in recent years, stuck to their guns leading up to Friday's historic moment in South Carolina when the battle flag was taken down in front of the state capitol.
On Thursday night's episode of The Kelly File, host Megyn Kelly, while speaking with Tea Party darling Dana Loesch about South Carolina taking the flag down, read a short statement from Kid Rock regarding his feelings about protesters. In recent days, demonstrators associated with Al Sharpton have called for Rock to stop embracing the flag. He told the activists to "kiss his ass" in a roundabout way.
Below is video from the segment, courtesy of YouTube user hwagner247:
Meanwhile, The Nuge indulged some NRA members earlier this week regarding his love of the racist symbol, as he not only proclaimed that he'll continue to fly the flag on his property due to it representing Southern traditions, but wondered if people in Chicago would stop shooting themselves if we took down all the flags. Also, on his Facebook page, when asked by a fan his thoughts on South Carolina taking down the flag, he responded with one word — Bullshit!
I don't think we even need to talk about the irony behind these two, both born and raised in Michigan, pretending to care about the flag and what it represents due to Southern pride and heritage. All this really shows is that both men are nothing more than poseurs who will pander to what they know are their largest fanbases — white rural and Southern dudes who are at least a little bit racist. While Nugent has been doing this shit for decades now, Kid Rock's case is a little more maddening.
The fact is, Kid Rock grew up in an upper-middle-class family in suburban Detroit. Early on, he wanted to be a true hip-hop artist and recorded a straight rap album in the early '90s that failed to take off. After a number of years, he latched onto the burgeoning rap/metal genre and found stardom. Through the years, as his fame ebbed and flowed, he decided to go the Southern-fried country-rock direction and totally embrace a full-on white trash persona, chock full of disses of Obummer and Beyonce while living on a ranch in Alabama. This is how you arrive at the Confederacy loving Kid Rock of today. It is, essentially, just an act, and one he would shed if he saw greater fortune somewhere else.
Image via Wireimage