Really? Rush Limbaugh Equates Homosexuals And Transgender People To Rapists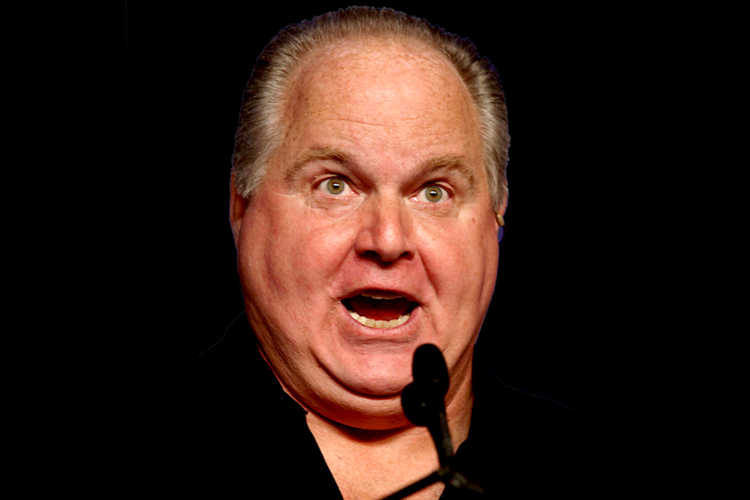 Every time you think you've heard the worst from Rush Limbaugh, he decides to surprise you and find an even lower bar to go under. During Tuesday's broadcast of his radio show, Limbaugh claimed that accused rapist and former huge TV star Bill Cosby was most definitely a liberal icon and that only Democrats and liberals are deviants and sexual assaulters. Beyond tying Cosby to the left, despite conservatives' love of Cosby's special brand of respectability politics for blacks, Limbaugh also somehow equated homosexuality and transgenderism with rape, as he directly compared Michael Sam and Caitlyn Jenner to Cosby.
Apparently, El Rushbo began his descent into the toilet by bringing up Seattle Seahawks quarterback Russell Wilson, who is currently dating pop star Ciara. Wilson made some gossip headlines this week when he claimed in an interview with a pastor that he convinced his girlfriend that they were going to go "Jesus' way" with their relationship, stating that they will not have premarital sex. According to the thrice-divorced Limbaugh, the left had a conniption fit when they found out about Wilson's comments. His proof — gossip rag TMZ kinda poking fun at Wilson by bringing up the movie 50 Shades of Grey, which Wilson claimed he saw and loved.. Yep, that was pretty much it.
Anyway, after Rush played a clip from TMZ talking about Wilson and Ciara, he then went off on a tangent where he brought up Sam, Jenner and young trans children while simultaneously talking about Bill Clinton, Ted Kennedy and Cosby. The implication is that all liberals, and those whom liberals look to as heroes, are all sexual monsters and rapists. For some other reason, he equated Wilson with Clarence Thomas (?!?!) and claimed that people have tried to "destroy them" over their sex lives. (Apparently, a tabloid joking about Wilson is the same as destroying his life.)
Okay, so, over here we have Michael Sam: Hero! Over here we have Bruce Jenner: Hero! Over here we've got some eight-year-old boy sitting crying on his front stoop yesterday fearing for his future because he's gay. He's a hero. We have another story today from Yahoo Parenting of a nine-year-old boy who claimed that he knew at age three that he was really a girl. And these people are all heroes. Over here, Russell Wilson, "We're going to do it Jesus's way"?
Oh man! Oh my God, what a throw-back!
The guys at TMZ couldn't believe it. You heard it. To them, it was the most shocking news of the day
…
Over here, Michael Sam. Over here, Caitlyn Jenner. Over here, Bill Cosby. Over here, Bill Clinton. Over here, Ted Kennedy. All heroes. All good guys in current American pop culture. Over here, Clarence Thomas. Gotta destroy him! Over here, Russell Wilson.
"Oh my God, man, what's wrong with the dude? We thought the dude had seen the light with 50 Shades of Grey! Oh my God, I feel bad for him, man. You know what I mean? I feel really down low. Oh my God, that guy is going to be celibate with Ciara? Oh my God! Oh, the shame." Over here, we have Ted Kennedy. Over here, we have Bill Clinton. Over here, we have Bill Cosby. Over here, we've got… Hell, the list goes on as far as the leftists are concerned in this regard, the womanizers.
…
Over here, we've got Russell Wilson and Clarence Thomas, and we've got to destroy them. I mean, we are 180 degrees out of phase, and I'm just chronicling the cultural decline for you. That's the only point here. I don't know Russell Wilson. I doubt I'll ever run into Russell Wilson. That's not the point. I don't have a dog in the fight. I'm just giving you cultural analysis.
So, let's get this all straight, OK? Bill Cosby, who has been accused of raping dozens of women over the years and has admitted to procuring Quaaludes to use to assist in his sexual assaults, is on the same level as someone coming out of the closet or embracing their real gender identity. Of course, for Limbaugh's listeners, fags and trannies are likely way worse than someone who takes sexual advantage of women. At the same time, apparently only liberals are responsible for rape and womanizing, says the guy who was detained for bringing unprescribed Viagra back from a trip to the Dominican Republic. Also, Democrats and progressives are the ones causing a cultural decline over marriage and sexual mores, claims the man currently on his fourth marriage.
Glad you were able to clear that all up for us, Rush.