Hillary Clinton's CNN Interview Brings Out All Of The Conservative Trolls On Twitter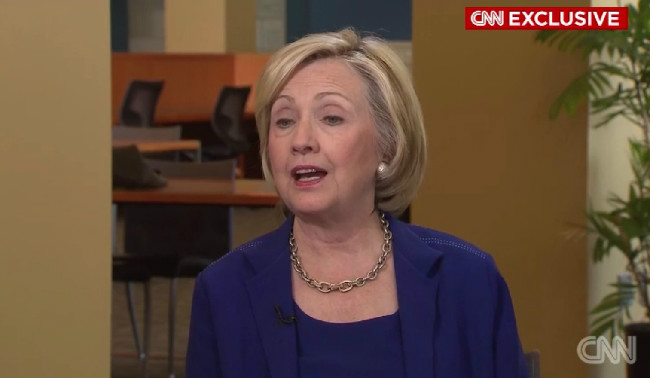 Democratic Presidential candidate and former First Lady Hillary Clinton finally gave an actual interview to a network when she appeared on CNN Tuesday evening. Sitting down with Brianna Keillar, Clinton answered some questions, evaded others, and basically changed no opinions towards her or her campaign. If you were a Hillary fan going into the interview, and felt that she's been the victim of Republicans trying to smear her with fake controversies, then you remained so after the program. If you hated Hillary based on a myriad of reasons — she's too liberal, she's not transparent, she's aloof, she's too conservative, she's in the pocket of Wall Street — nothing she said (or didn't say) made you change your mind.
After the interview had concluded, CNN provided a nicely condensed, 4-minute version of the sit-down conversation. You can check it out below:
The one thing that Hillary's first interview as a 2016 White House hopeful did provide was an opportunity for conservatives to take to Twitter and absolutely shit all over Clinton and her campaign. Regardless of what occurred in the highly-anticipated program, they were going to do it. However, with many Democrats starting to shift their allegiance to Socialist Senator Bernie Sanders, and Hillary's performance coming across as somewhat icy and evasive, the conditions were perfect for far-right Twitter users to hijack the #HillaryonCNN hashtag and make it a trending topic based almost solely on conservative opinion.
Below are some of the more noteworthy tweets from Hillary haters in the feed:
#HillaryonCNN promotes her status as a presidential candidate who is a "hair icon" according to @HillaryClinton's @Twitter #profile! {barf}

— Patriots of Freedom (@MunichEleven) July 8, 2015
@cnnbrk @HillaryClinton slobbering fake interview. When do the REAL questions start. Faux journo as usual #HillaryonCNN — Mommyesq (@Catatonic11) July 8, 2015
#Benghazi is scandal because #Pantsuit played politics on the backs of 4 dead Americans bycovering up what happened. #HillaryonCNN #Trump

— SpreadButter (@SpreadButter) July 8, 2015
Thank you @JAmy208. I asst. #TEAParty effort 2 spread truth & graphics r popular on Twitter, so … #HillaryonCNN pic.twitter.com/sE3ABX1iFk — Danno Mann (@Danno_a_Jyd) July 8, 2015
#HillaryonCNN exemplifies how/why their ratings are going down faster than one of Bill's interns…

— G (@TCC_Grouchy) July 8, 2015
@RedNationRising @suscitate That time Obama turned the White House into a Fag and #HillaryonCNN loved it so much! pic.twitter.com/Owz60aCsYM — steve (@Dahat8) July 8, 2015
Actually, it SHOULD read: "Practically every woman has had my own Bill." #OhHillNo #HillaryonCNN https://t.co/mDmZrHY4T4

— Jake Harrison (@RedStateJake) July 8, 2015
.@CNNPolitics @HillaryClinton @realDonaldTrump Does Hillary have a severe medical condition which makes her nod her head? #HillaryonCNN — Mr T 2 (@GovtsTheProblem) July 8, 2015
#HillaryonCNN "People Do Trust Me" to be 110% inept Since she was not good enough for Bill she is not good enough for the rest of us

— Paul Lewis (@Pauldpent) July 8, 2015
Yes! @CarlyFiorina to @HillaryClinton… Nails it! #HillaryonCNN pic.twitter.com/CWLEa49ayk

— Republican Thinker (@GOP_Thinker) July 7, 2015
#HillaryonCNN taking more corporate and foreign cash. pic.twitter.com/UfHk3EG4a7

— Markeece Young (@YoungBLKRepub) July 7, 2015