U.S. Sees One Million New Coronavirus Cases In Five Days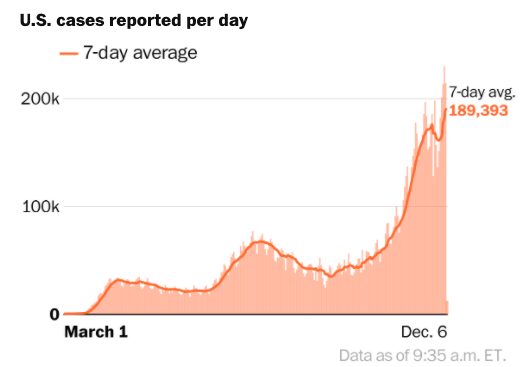 The Washington Post
More than one million cases of the coronavirus have been recorded in the U.S. since the beginning of December, according to data from Johns Hopkins University.
This brings the total nationwide to 14.5 million confirmed cases. 281,199 deaths have been attributed to the virus.
As noted by Dr. Anthony Fauci last week, the post-Thanksgiving travel season is expected to worsen a spike in cases that accelerated throughout November, with hospitals in many parts of the country being stretched for staff and resources to handle an influx of patients.
Once the first cases of the coronavirus were confirmed back in January, nearly 100 days elapsed before the 1 million case threshold was reached.