CNN's Jim Sciutto Claims Ben Ferguson Is 'Justifying Bigotry' by Defending Limbaugh's Buttigieg Comments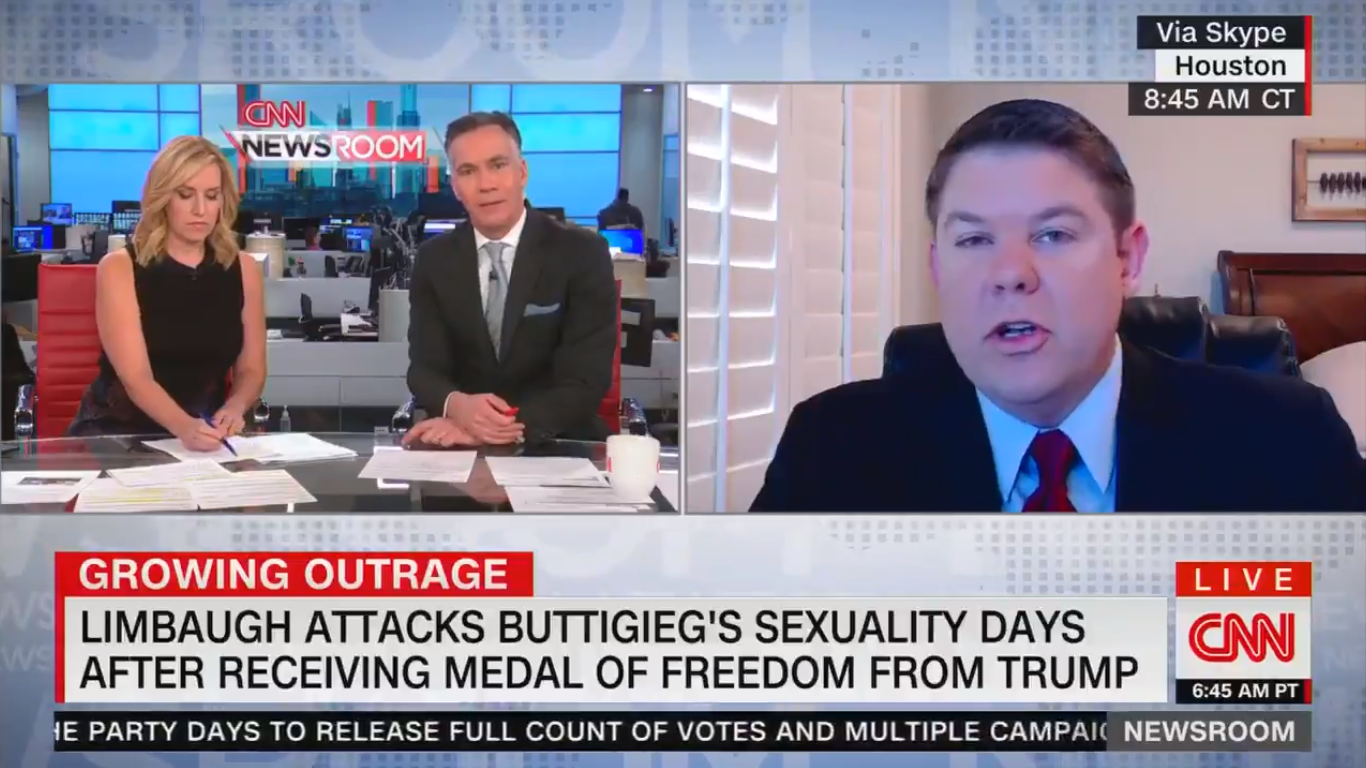 CNN's Jim Sciutto suggested that CNN Contributor Ben Ferguson was defending bigotry as Ferguson defended conservative Rush Limbaugh's comments about Pete Buttigieg. Limbaugh had said that President Trump was more manly than 'guy guy' Buttigieg.
"A gay guy, 37 years old, loves kissing his husband on debate stages," Limbaugh said. "Can you see Trump have fun with that?…They're looking at Mayor Pete, 37-year-old gay guy, mayor of South Bend, loves to kiss his husband on the debate stage. And they're saying, OK, how's this going to look, 37-year-old gay guy kissing his husband on stage next to Mr. Man Donald Trump? What's going to happen there?"
Ferguson was asked to respond and though he hedged somewhat, he also suggested Limbaugh had a point.
Ferguson: I think the point Limbaugh was making was, you have a president … that is a very masculine guy, you have Mayor Pete that comes across much more like an academic

Scuitto: Listen, it seems to me you're justifying bigotry pic.twitter.com/1HCsf2MrDo

— Lis Power (@LisPower1) February 13, 2020
"For me personally, I have no problem with him being a gay man. I can debate him on the issues, it has nothing to do with sexuality," Ferguson said.
"The reality here is what Limbaugh was talking about, and the way he said it is different than I would say it. There are Democrats sitting there worried that this is going to be a bigger issue."
Sciutto wondered what was more masculine, since the former South Bend mayor is a military veteran. As Ferguson continued to argue in a similar vein to Limbaugh, Sciutto wasn't impressed.
"Listen, it seems to me you're justifying bigotry," Sciutto said.
Watch the video above, via Twitter.