Fox's Pete Hegseth: U.S. Should 'Take Out' Iran's Oil Production Facilities, Infrastructure and al-Quds HQ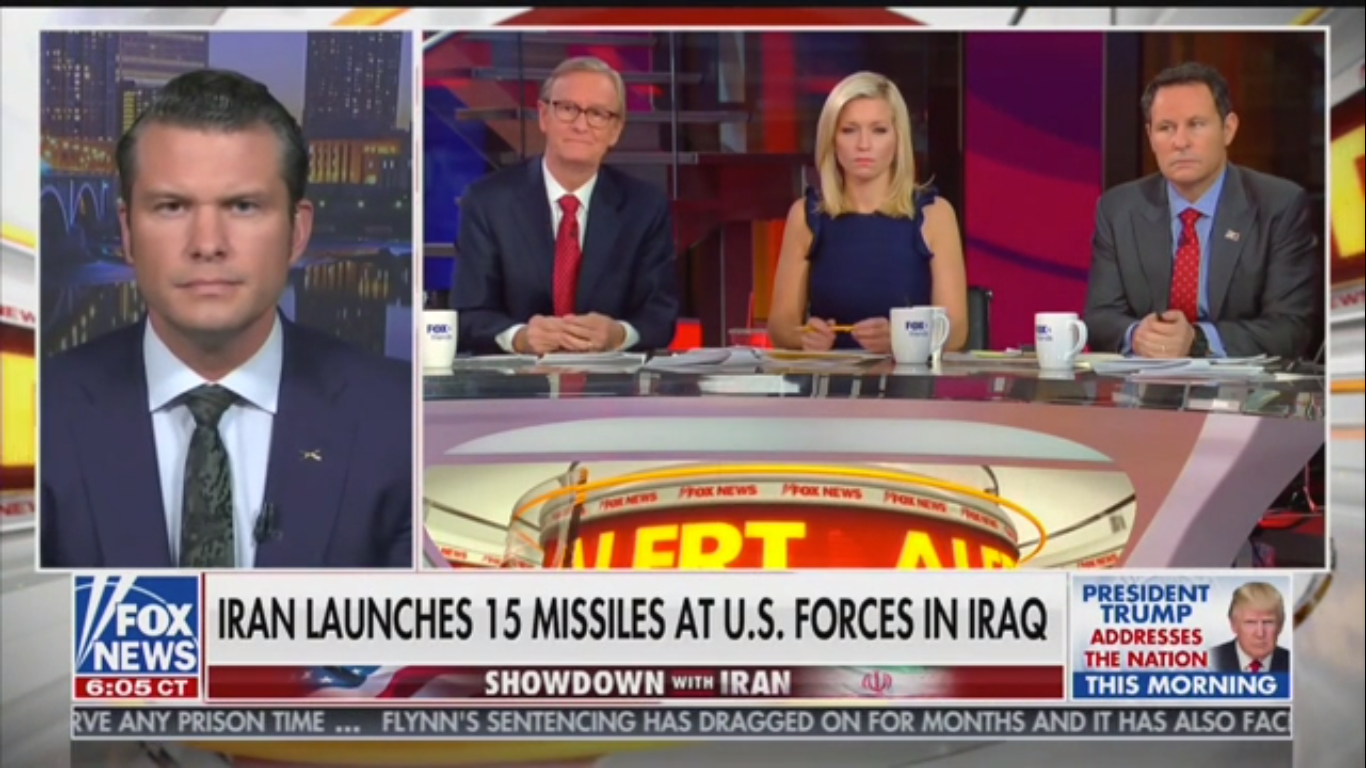 Fox News' Pete Hegseth appeared to propose all out war with Iran on Wednesday. Following the country's missile strikes on Iraqi bases housing U.S. troops, Hegseth told Fox & Friends that the United States should strike a series of major targets in Iran.
"Sometimes you have moments, Steve [Doocy]," Hegseth said. "I happen to believe that we can't kick the can down the road any longer in trying to prevent will Iran from getting a nuclear bomb."
Hegseth claimed that Iran was using the killing of General Qassem Soleimani to scrap the nuclear deal. However, the Trump administration pulled out of the deal while Iran and the European signatories remained parties to it.
"We all know they were scrapping the it anyway. So what better time than now to say we're starting the clock? You've got a week. You've got X amount of time before we start taking out your energy production facilities. We take out key infrastructure. We take out your missile sites. We take out nuclear developments."
"Take out al-Quds' headquarters while you're at it if you want."
Al-Quds is a part of the Iranian Revolutionary Guard Corps, led by Soleimani until his death. It is responsible for foreign operations.
"That is not a popular idea," Doocy said.
"I understand that's not a popular idea," Hegseth went on. "I don't want boots on the ground. I don't want occupation. I don't want endless war. But Iran has been in endless war with us for 40 years. Either we put up and shut up now and stop it or we kind of wait, go back to the table and let them dither while they attempt to continue to develop the capabilities to do precisely what they've said they want to do."
"We were honest about the nature of this regime or I think we miss a moment. So I think it's been played well so far but we should keep the initiative on our side as opposed to trying to just tit-for-tat react to something they'll to keep doing. They always have."
Watch the video above, via Fox News.