Tucker Carlson Leads Cable News Ratings on Tuesday Night, Maddow Beats Hannity in Key Demo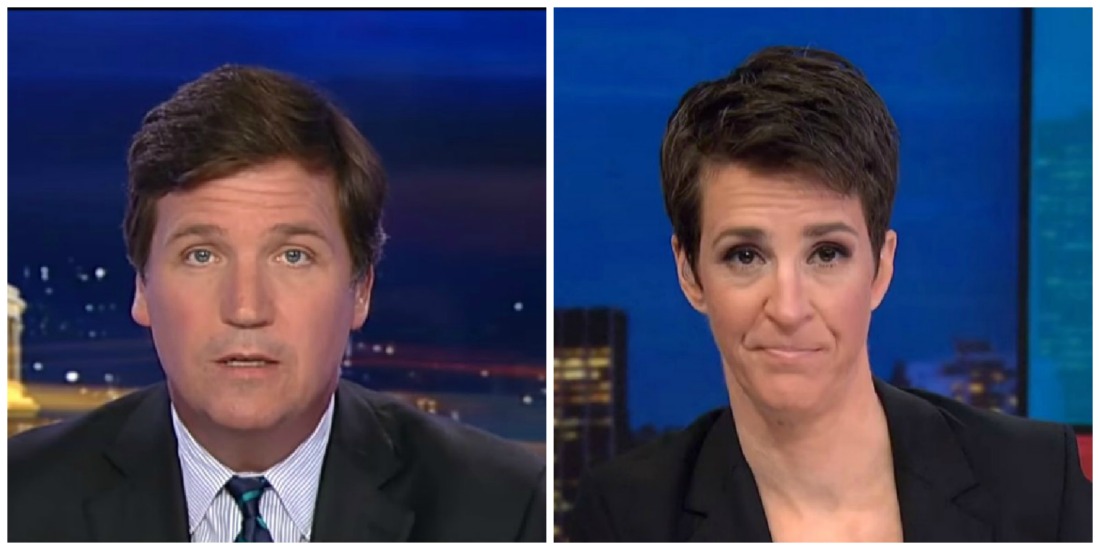 Both Fox News and MSNBC experienced solid viewer numbers in primetime on Tuesday night, with three shows drawing at least 3.3 million total viewers. The busy news night, featuring statewide election results across the nation and more impeachment coverage, also helped CNN draw higher-than-average viewership for the evening.
According to Nielsen, Fox News led across the board during the 8-11 PM primetime hours, drawing 3.234 million viewers overall and 543,000 in the key 25-54 demographic. MSNBC followed up with 2.709 million total viewers and 487,000 in the demo. CNN averaged a demo audience of 405,000 and a total viewership of 1.334 million.
During the 9 AM – 5 PM daytime slot, Fox News drew 1.519 million total viewers and 223,000 in the 25-54 demo. CNN pulled in 157,000 in the demographic and 757,000 viewers overall. MSNBC nabbed a total audience of 1.091 million and 150,000 in the key demo.
Fox News' Tucker Carlson Tonight led cable news in both total viewers (3.596 million) and the key demographic (656,000). MSNBC's The Rachel Maddow Show placed second overall in the demographic (623,000) while taking third place in total viewership (3.384 million).
Fox News' Hannity, which airs opposite Maddow at 9 PM ET, finished third overall in the key demo (564,000) while taking the runner-up spot in overall viewership (3.427 million). Fox's The Five placed fourth in total viewers (2.889 million) and FNC's Special Report grabbed the fourth-place spot in the demo (486,000).
The most-watched show on CNN was Cuomo Prime Time, which drew 1.448 million total viewers and 446,000 in the key demo.