Sean Hannity Tells Congressmen Who Stormed SCIF: 'I Hope You Guys Do This Every Day!'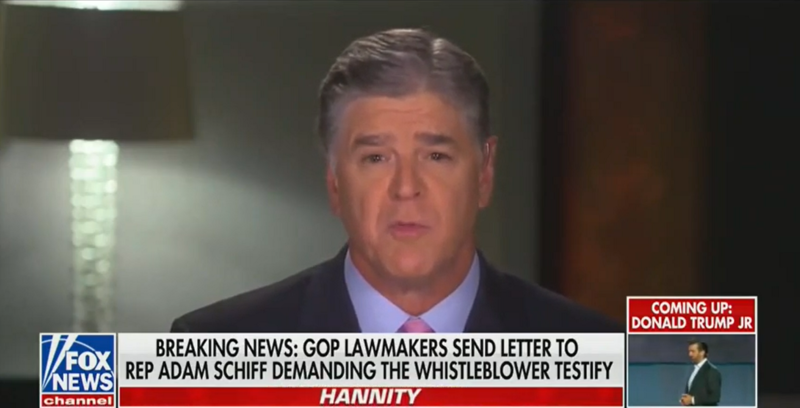 Fox News' Sean Hannity praised two Republican congressmen who were involved in 'storming' the SCIF on Wednesday and who disrupted a private deposition from Pentagon official Laura Cooper. Speaking on his show, Hannity encouraged them to do it again.
"Joining us now, two house GOP members who are directly involved in the storming of the Democratic closed-door Soviet-style impeachment coup attempt," Hannity said by way of introduction.
"This never happened in history," Hannity said. "This is unprecedented. No due process, frankly no legitimacy. I hope you guys do this every day."
Hannity tells two GOP congressmen who took part in today's "storming the SCIF" publicity stunt: "I hope you guys do this every day!" pic.twitter.com/RP5ShO2N2T

— Justin Baragona (@justinbaragona) October 24, 2019
"They're doing it because they're trying to take on the sitting President, not based off of actual charges built on actual facts, actual evidence," Congressman Lee Zeldin said.
"What Adam Schiff is trying to do in his bunker in the capital basement, try to write the world's greatest parody," Zeldin went on. "And in that he can't bring in the witnesses that the minority party would want. He can't allow the President to have his counsel present to cross-examine witnesses and present evidence."
Watch the exchange above, via Fox News.