Fmr. GOP Rep. Charlie Dent Nails Sean Duffy: 'My Nose Isn't a Heat-Seeking Missile for the President's Backside'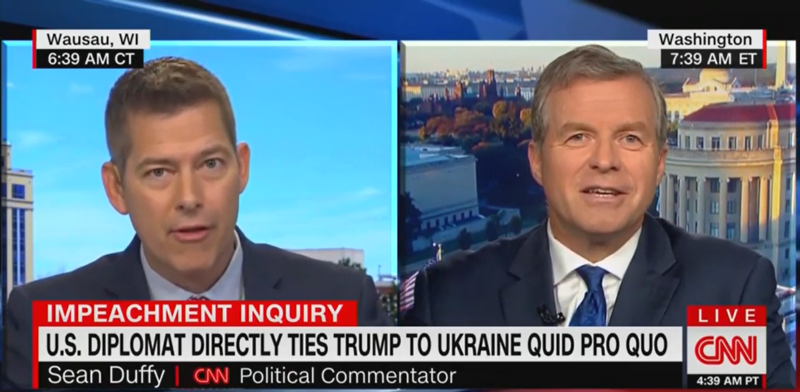 Two former Republican congressmen clashed on CNN on Wednesday morning. Charlie Dent and Sean Duffy sparred over President Donald Trump, Ambassador Bill Taylor's testimony and the now ubiquitous quid pro quo. At one point, Dent appeared to accuse Duffy of brown-nosing the President.
Duffy attacked the Democrats' impeachment process, using the familiar line that it is taking place in secret. He also said there was no quid pro quo with regard to military aid to Ukraine.
"The Ukrainians have to know that Donald Trump is taking something away from them to have a quid pro quo," Duffy said.
"A perfect example of a quid pro quo is Joe Biden who said if you don't fire this prosecutor, I'm going to take away a billion dollars. That's one thing for another thing. Donald Trump doesn't have that because the Ukrainians never knew anything was taken away."
"The Ukrainians clearly understood the pressure they were under," Dent replied
"People ask me 'Why do I push back against this administration and the President?' Because my nose is not a heat-seeking missile for the president's backside."
"This is wrong. You cannot use official resources of the government to investigate your political opponent."
Watch the video above, via CNN.