Fox's Brian Kilmeade: Only Way Democrats Can Beat Trump Is to 'Make the President Look Unworthy of the Job'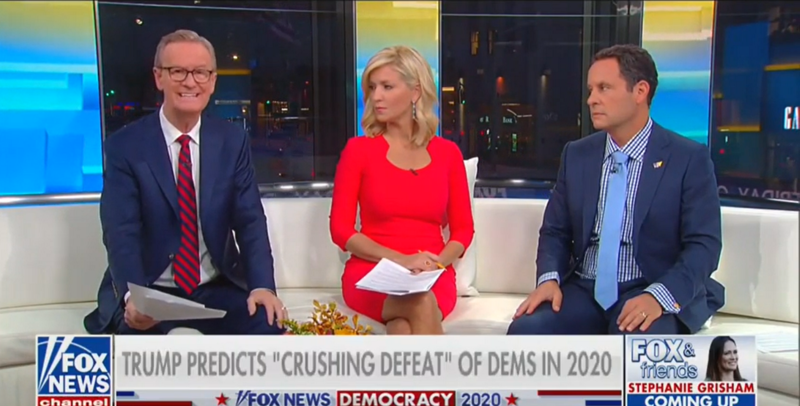 The hosts of Fox & Friends have made it a habit to dismiss President Donald Trump's political opponents and tout his economic numbers. On Friday's show, the Fox News personalities offered their take on Democrats' 2020 strategy – which might just turn out to be true.
The hosts were speculating about the 'weak' Democratic presidential field and wondering if 2016 candidate Hillary Clinton might jump into the race, an idea batted about by some conservatives lately.
"You look at what the Democrats face, regardless of who their candidate is, can they beat the Trump economy?" Steve Doocy asked.
"You look down in Texas alone, in Texas, 774,000 Jobs were added to Texas, according to the President's campaign last night. 70,000 manufacturing jobs, compared to 55,000 lost during the Obama years. So, how did the Democrats run against that? With impeachment. That's what's going on right now."
"I'm not sure if Hillary Clinton could win. I know if Michelle Obama got in, which I know she's not," Ainsley Earhardt said.
"Or Michael Bloomberg," Doocy said. Neither Obama or Bloomberg are in the race for the Democratic nomination and neither are seriously considered as potential candidates.
Brian Kilmeade was dismissive of former New York Mayor Bloomberg's chances. He is not currently running.
"I don't know if he has national appeal even though he's had remarkable career at 74. I don't know if that is the answer," Kilmeade said.
"But I also think to keep in mind this: is the Democrats best hope of getting the White House back is make the President look unworthy of the job and tat seems to be the concerted effort whether it's Russia, this latest thing with the Ukraine, he had a meltdown, he's unsteady."
"So the only way to say to make him unworthy of the spot, if you don't have somebody to take it, the next coming of FDR, is to say, well, we can't give it to him again."
Kilmeade does have a point. Many Democrats and conservative opponents of the President, including his potential primary challengers in the GOP, are making the case that Trump's actions mean he's unworthy of the job.
Watch the video above, via Fox News.