Sarah Sanders Slams Democratic Debate: I Couldn't Believe They Glossed Over Biden's Corruption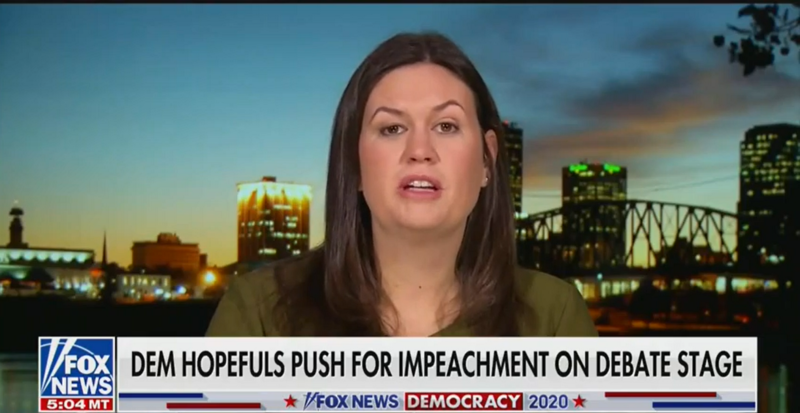 Former White House Press Secretary Sarah Huckabee Sanders attacked CNN and the Democratic presidential candidates on Wednesday for giving former Vice President Joe Biden a 'free pass' on 'corruption'. Sanders appeared on Fox & Friends to spread the unfounded allegations that Biden and his son Hunter had behaved corruptly.
"I think the big loser last night was Joe Biden," Sanders said. "I think it was incredibly telling that all of the fire that was taken on stage by Elizabeth Warren and not Joe Biden, indicating that even Democrats on that stage know that Biden is finished and Warren is the new front runner."
Fox News' host Brian Kilmeade asked Sanders what she thought was going on behind the scenes of the Biden campaign and why he doesn't do one-on-one interviews.
"I think it's recognition of the failures of him as vice president for eight years," Sanders said. "I think it is showing that they didn't get anything done. The things they did, the American people don't want."
"And I think it shows the level of corruption that people think that the Biden family is actually engaged in. I thought that the questioning last night was weak and pathetic. Sadly, it is not surprising, that CNN accused President Trump in their questions yet gave Biden a complete free pass."
"They gave him one question, a very basic follow-up and moved on. I couldn't believe that they glossed over the corruption that we've seen exposed over the last couple of weeks so quickly as they did last night. And that nobody else on stage even thought to call Biden out."
"I think, one, it's because they know that he and his family have been so deeply involved in that corruption but more so because they know he is no longer a factor in this race. I think they have already decided to write him off and they are focusing their fire on Elizabeth Warren."
Sanders went on to accuse CNN of hypocrisy because they claimed President Donald Trump had falsely accused Biden of corruption. The allegations are false.
Watch the video above, via Fox News.