Fox's Tammy Bruce: Networks Refusing to Air Inaccurate Trump Ad Are Like 'State Media' in 'Totalitarian Societies'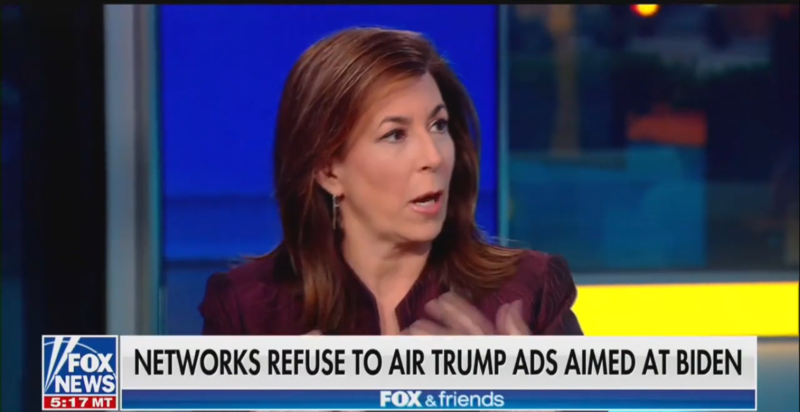 Fox News reporter Tammy Bruce has accused other networks of acted like 'state media' for refusing to air a Trump campaign ad that is filled with misinformation about former Vice President Joe Biden. CNN and NBC will not run the ad, citing its falsehoods.
"Democrats at some networks refuse to air President Trump's re-election campaign ads, like CNN and NBC, targeting Joe Biden and his ties to Ukraine," Fox & Friends host Brian Kilmeade said.
"Look, this is what's been kind of fascinating. It's been happening for a while," Bruce said.
"Remember Joe Biden's team had warned everyone to stop booking Rudy Giuliani. In this case a number of networks have decided they've refused to air Trump campaign commercial that criticizes Joe Biden, which is what campaigns are for. We have a discussion about what people are doing. What they have accomplished."
"Is the ad inaccurate?" co-host Steve Doocy asked. The ad is not accurate.
"Well, it's public information," Bruce said. "It's facts that we already have out. It's of course a campaign ad. So it's critical. It doesn't present it in a neutral way but it's meant to give you some information about the nature of what Joe Biden and his son Hunter have been doing and that's, I think, fair game in a campaign and a dynamic when you're a politician."
"Then there's of course also  what we've learned with the New York Times. They've printed an op-ed piece by Peter Schweizer that was critical of not just Joe Biden but also a little bit critical of Mitch McConnell as well.
"And the Joe Biden team, his campaign, publicly excoriated the New York Times for doing this, for effectively going out of their lane, that they shouldn't have done it. This is what totalitarian societies do to state media. There seems to be an expectation by certainly the Biden campaign that you do not criticize him."
"It's the craziest thing ever," Kilmeade said.
Watch the video above, via Fox News.