Joe Scarborough Blasts 'Sniveling, Quisling' GOP Senator Ron Johnson for Defending Trump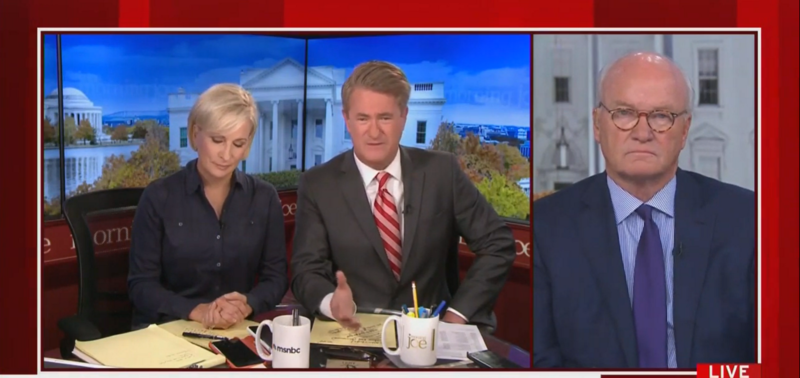 Morning Joe's Joe Scarborough took Republican Senator Ron Johnson to task on Monday following Johnson's unhinged performance on Meet the Press. NBC's Chuck Todd accused Johnson of spreading Fox News propaganda during a tumultuous interview.
Scarborough showed a series of clips from the interview where Todd battled with Johnson for a straight answer while the Senator deflected to defend President Donald Trump.
"What a sniveling, Quisling-like performance on Meet the Press," Scarborough said. "It's a senator, United States senator, representing the good people of Wisconsin bringing up conspiracy theories from years past, trying to somehow say that explains Donald Trump holding up $400 million worth of military aid to protect a democratic ally from further invasion from Vladimir Putin."
"A man that Donald Trump has, of course, capitulated to time and time again in every meeting that they had. And it's just all of these displays, you can look at Marco Rubio's display. Marco said a few good things during this investigation."
"But Ron Johnson there and so many others. I saw Joni Ernst the other day and I thought, my God, you entered public service for this? To cower in front your own people and to lie in front of your own people and just not tell them the truth? It's astounding and it gets worse by the day. And, of course, we know this will end badly for Donald Trump and everybody else that apologizes for him. But it is so painful to watch right now."
"They go out and say these things, but they know," regular Mike Barnicle said. "Behind the scenes they know. Well, Joe, they all know. And they have all chosen, they've had a choice, to protect the country or protect their status in office. They've chose their own re-election hopes and dreams over the United States of America."
Watch the video above, via MSNBC.