Trump Trade Adviser Peter Navarro Won't Deny That He Raised Biden With China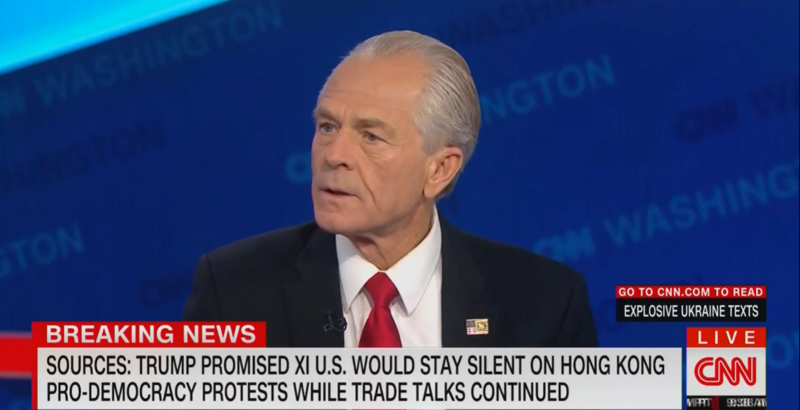 President Donald Trump's trade adviser Peter Navarro struggled to answer questions about the President's recent behavior on Friday. Speaking to CNN's Jim Sciutto, Navarro seemed flustered when confronted with Trump's statements about former Vice President Joe Biden.
Sciutto asked Navarro if he was disappointed with Trump following reports that the President had told China he would not speak out about the crackdown in Hong Kong.
"I'm never disappointed in my president," Navarro said. "I'm never disappointed in my president."
"When you heard the president yesterday call on China to investigate an American, you and I have spoken multiple times about how China breaks international law," Sciutto said.
"Is this like an interrogation here? It's like,  I feel like I'm Adam Schiff is sitting in front of me," Navarro said.
"I'm a journalist. I ask questions of Democrats and Republicans every day," Sciutto said.
"This is like an interrogation," Navarro said.
Sciutto went on to ask about President Trump's very public call for China to investigate Joe Biden. Navarro complained repeatedly that stories about Trump were based on anonymous sources, while Sciutto defend the reporting.
"Have you ever raised investigating Joe Biden or his son during contacts with Chinese officials?" Sciutto asked.
"Me, personally? No," Navarro said, but almost immediately issued a non-denial
"Here's the thing, I will never talk about what happens inside the White House. OK? Not confirm or deny. 'Cause that's the slippery slope."
"Let me ask you this, Jim. With all, hang on, hang on. Let me ask you this. Let me ask you this. How is it that a U.S. president, going forward, is ever going to be able to have a candid conversation with a foreign leader about any sensitive matter, if the jackals are always wanting to get things revealed? You guys want every transcript revealed of everything."
Sciutto clearly did not believe that Navarro had properly denied that he'd raised Biden with China, so he tried again. Unfortunately, Navarro didn't take the opportunity afforded to him.
"Before we go, I'll just give you the opportunity, have you ever raised investigating Joe Biden or his son in Chinese negotiations?"
"Have you ever given me a source that's other than anonymous for any of this crap? That's what I want to know. OK?" Navarro said.
"Stop writing these irresponsible stories that are single source from anonymous people," Navarro went on.
"I am answering the questions that I think are appropriate, Jim," Navarro concluded.
Watch the video above, via CNN.