Twitter Has Field Day After Nickelback Pulls Down Trump Video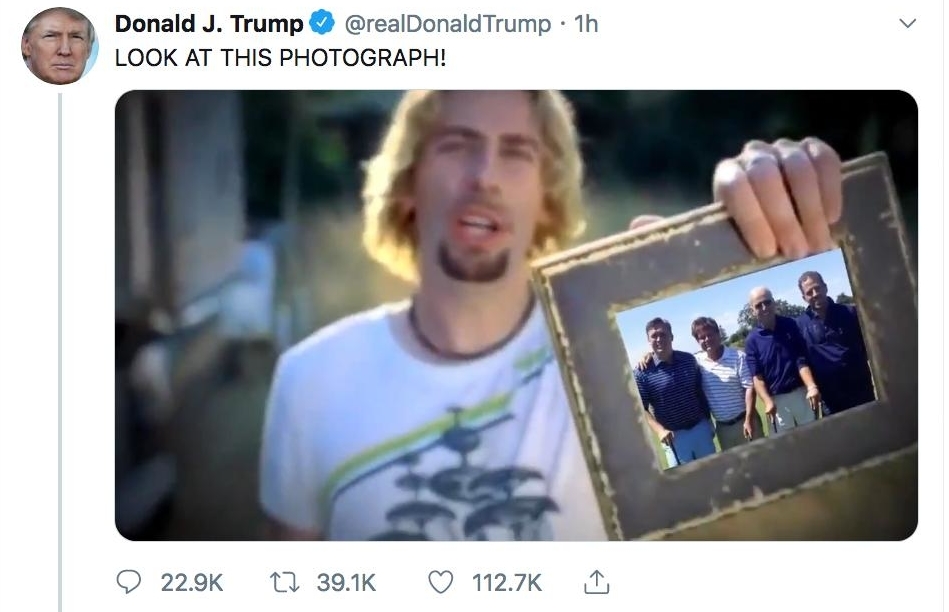 The rock band Nickelback has had Twitter remove a video tweeted by President Donald Trump because it infringed their copyright. Trump tweeted a Nickelback song on Wednesday that was visually altered to attack former Vice President Joe Biden, but by Thursday morning the image could no longer be viewed and a copyright violation notice was in its place.
omg omg omg Nickelback had Twitter take down Trump's Photograph tweet for copyright violation omg omg omg pic.twitter.com/q3Ztlfex6C

— David Mack (@davidmackau) October 3, 2019
The meme was a reference to Nickelback's song 'Photograph.' The President tweeted it as part of his efforts to claim that Biden and his son, Hunter, had acted corruptly in Ukraine. Twitter users responded with scorn to the original tweet and then made fun of the President after the image was removed.
Historian Kevin Kruse enjoyed a whole story from the tweet.
I love you, Twitter. pic.twitter.com/rlLEFnmt30

— Kevin M. Kruse (@KevinMKruse) October 2, 2019
Others used the opportunity to dunk on conservatives for their frequent claims of online censorship.
Good morning. Nickelback shadow banned the president. pic.twitter.com/urXQsObAcG

— Andy Campbell (@AndyBCampbell) October 3, 2019
There was even vindication for some in the White House press corps.
As I predicted, @realDonaldTrump appears to be the first American President to be dissed by @Nickelback. pic.twitter.com/vuN1J3FJGq

— Andrew Feinberg (@AndrewFeinberg) October 3, 2019
And of course, plenty of people took the opportunity to criticize Nickelback. The band is infamously considered bad by anyone other than die-hard fans – a well-known internet meme in itself.
When you're so awful that even Nickelback hates you: pic.twitter.com/dmFHNea49v

— Nick Jack Pappas (@Pappiness) October 3, 2019