'Fox & Friends': Trump's Phone Conversations Are Kept in a 'Super Secret Gizmo Computer'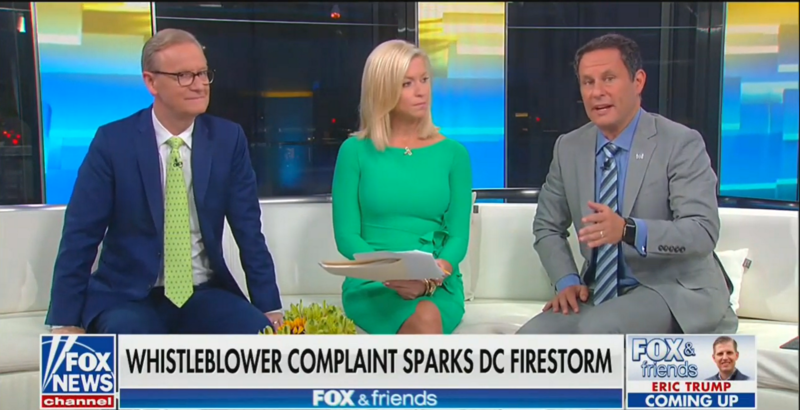 Fox & Friends defended President Donald Trump on Monday amid the ongoing Ukraine whistleblower scandal and impending impeachment investigations. While attempting to undermine the whistleblower, co-host Brian Kilmeade suggested people had been disloyal to the President, while Steve Doocy continued to struggle with the idea of a secure server.
"It's got to be frustrating for the President because people in his own midst seem to be very comfortable turning on him," Kilmeade said.
"And if you felt that conversation wasn't appropriate, why don't you become the whistleblower? Why are you somebody that goes and whispers into it, according to the New York Times, is a CIA male, and whisper to him and he says five or six other people heard the call and were disturbed by it."
"And the President's actions of putting into a secure server is something to prove that even the President's people knew it was wrong. No. There's another counter-narrative to that and if Adam Schiff wanted to be fair and he doesn't, he would have said I can also understand the President feeling a little insecure about his phone calls because so many have been shared from Vladimir Putin to the Philippine leader to the Australian leader to Theresa May and, of course, the Mexican leader."
"What brought things — changed the component was that the conversation the President had was stored in a super secret separate computer," co-host Steve Doocy said.
"And that's where they put the Putin conversation, which was a couple of days later and I believe Saudi Arabian leader conversations as well. So that's why Democrats now want to look at those conversations because it was all placed in that place, in that super secret gizmo computer…"
"A repository," a clearly unimpressed Ainsley Earhardt offered.
"That was trying to keep everybody's eyes away from it," Doocy concluded.
Watch the video above, via Fox News.