Fox News Guest Blames Ukraine Scandal For Joe Biden's Poll Numbers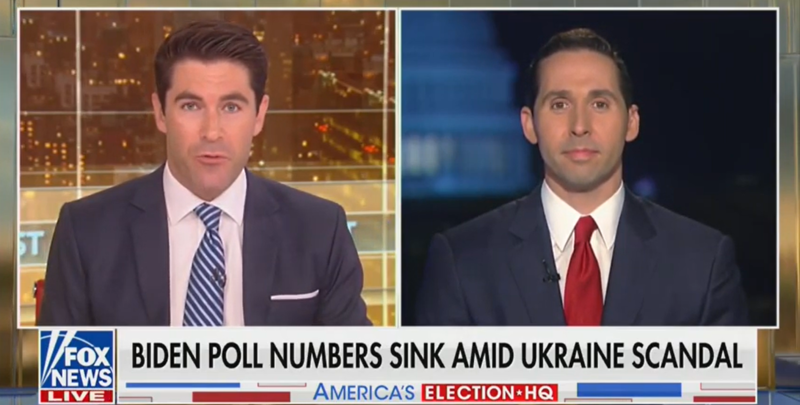 A new poll shows former Vice President Joe Biden losing out to Senator Elizabeth Warren for the first time. While this may indicate Warren's campaign is picking up steam, Fox News has found a different explanation: the growing scandal surrounding Ukraine.
Republican pollster and strategist John Thomas told Fox & Friends First on Thursday that Biden's declining poll numbers were due to his connections to Ukraine. This is despite the fact that President Donald Trump is facing an impeachment inquiry for pressuring the Ukrainian president to investigate Biden.
"As this Ukraine scandal ramps up Joe Biden dropped to second place in the Quinnipiac national poll with Elizabeth Warren leading in that poll. Could Liz Warren end up being the real winner in this impeachment pushed?" Fox host Rob Schmitt asked.
"Joe Biden wasn't doing that great even before that – this controversy. He was already on the decline and this is the last thing Joe Biden needs for a couple reasons," Thomas said.
"Joe Biden's fundamental brand promise to the Democrats in a primary is electability, that he's the safe choice, that you already know who he is. There's no scandals in his closet."
"The problem with this is Hunter Biden has not yet testified. Senate Republicans can pull testimony, force Hunter to testify. Regardless of whether they find Hunter and his father guilty of anything, it's the appearance of impropriety, the appearance of scandal, that is gonna further pull Biden down."
Thomas' comments are essentially a preview of Republicans' tactics over the coming weeks as the House begins investigations into the President. Fox News has repeatedly tried to make this scandal about Biden.
Watch the video above, via Fox News.