Rudy Giuliani Yells at Fox News Guest: "Shut up, Moron! Shut up!"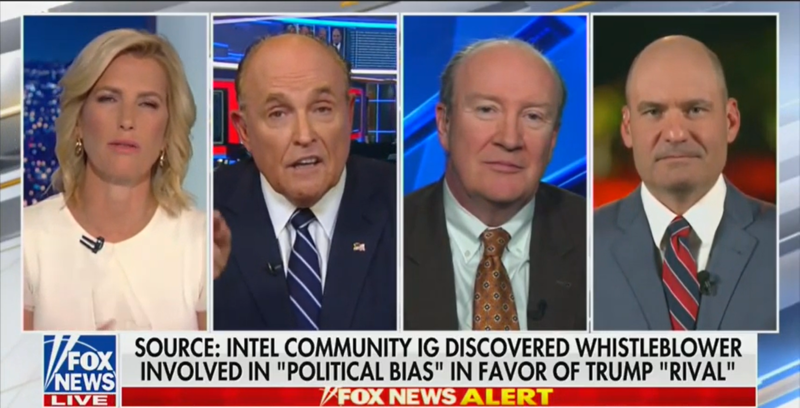 Rudy Giuliani verbally attacked another guest on Fox News' The Ingraham Angle on Tuesday night. During a panel on President Donald Trump and the growing scandal about Ukraine, Democrat Chris Hahn set Giuliani off and the former New York mayor demanded Hahn be put off the show.
"I just heard the president's personal, political attorney say that he was directed by the State Department to go meet with the Ukraine to get evidence on the president's political opponent," Hahn said as he criticized Giuliani for his comments on former Vice President Joe Biden.
Giuliani came onto the show to respond to Hahn and then the segment quickly devolved into a farce when Giuliani attacked Hahn.
"You actually usually say incredibly stupid things," Giuliani said. When Hahn interrupted him, Giuliani started shouting for Hahn to shut up.
"Shut up, moron! Shut up! Shut Up! You don't know what you're talking about. You don't know what you're talking about, idiot!"
The two continued to argue over whether Giuliani had said the State Department had asked him to dig up dirt on Biden.
"Why don't you tell him to keep his mouth shut so we could tell the truth! Just keep your lying mouth shut!" Giuliani said.
"He said about me that I was asked by the State Department to go dig up political dirt on Trump's opponent. Totally false. The State Department asked me…"
"You just said it!" Hahn jumped in.
"No, I didn't, you did, you liar!" Giuliani said. "You did! Turn him out so I can speak. I do not want to be interrupted by that serial liar."
Watch the video above, via Fox News.