GOP Rep. Matt Gaetz: Trump Showed Republicans Transcript Ahead of Time, Gave Us Talking Points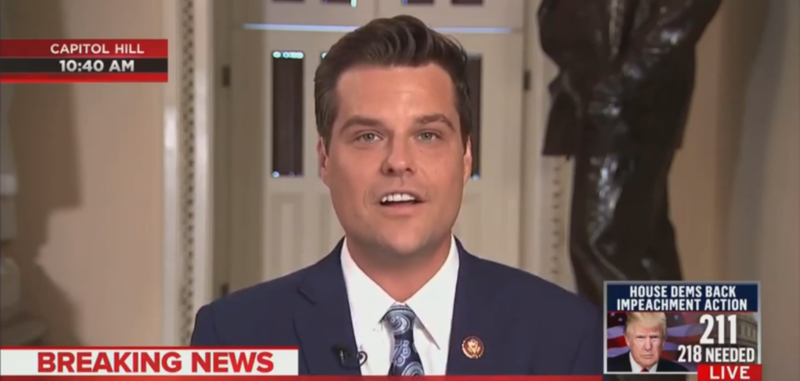 Republican Congressman Matt Gaetz has told MSNBC that President Donald Trump brought Republican lawmakers to the White House on Wednesday morning and showed them the transcript of his call with Ukraine's president. No Democrats were present.
"Have you had a chance to review and read these transcripts that we're talking about?" MSNBC's Hallie Jackson asked Gaetz.
"Yeah, I've had the chance to review the transcripts and chat with the President about them," Gaetz said.
"Were you at the White House?"
"Yeah, we went over to the White House."
"Who is we? You and Democrats, just Republicans?"
"I didn't check anybody's voter registration card, but I can tell you that…" Gaetz said.
"You know who Democrats and Republicans are. I'm just trying to find out did the…" Jackson said.
!!! Rep. Matt Gaetz tells @HallieJackson Trump called Republican members of Congress to the White House this morning to give them a look at the Ukraine call memo and get them assembled on talking points

— Geoff Bennett (@GeoffRBennett) September 25, 2019
"It was a group of legislators. The bottom line is that in this transcript there is no quid pro quo, there is no improper leverage and the overall tone of this transcript is that it is mutual," Gaetz said, going on to defend President Trump and the contents of the call.
"I want to be clear about this. When the president invited you and your colleagues over to the White House this morning, were there any Democrats also invited or was it just a group of Republicans?" Jackson pushed.
"I'll leave that to the White House," Gaetz said. "All I know is I went over there and I had a chance to read the transcripts contemporaneous with reporters being briefed and its transmission to the public and I am thrilled with the fact that president Zelenskyy says in the transcript that he's going to open an open investigation."
After some back and forth, Jackson pressed Gaetz again.
"Congressman, I want to make sure I'm clear on this," she said. "Fact check me here. It seems to me that you might have had an opportunity prior to other members of Congress because you are close with the president to get an earlier look at this transcript than others did. Was that a meeting to get everybody on the same page with talking points as far as the president's team and people that are close to him?"
Gaetz deflected the question but appeared to acknowledge that no Democrats had been at the White House to see the transcript.
Meanwhile, later on in the day, the White House apparently sent over their talking points to some House Democrats.
The White House has sent some House Democrats their talking points on the Zelensky transcript.

— Jake Sherman (@JakeSherman) September 25, 2019
Things are just going swimmingly for the White House today.