Rudy Giuliani Links George Soros to His Biden/Ukraine Conspiracy Theory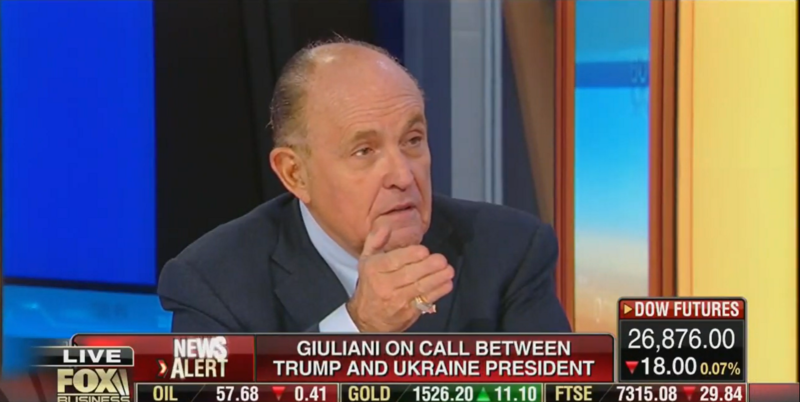 Rudy Giuliani appeared on Fox Business on Monday to repeat his unfounded allegations against former Vice President Joe Biden and his son, Hunter. He was interviewed by Maria Bartiromo, who allowed the former New York mayor to retread the argument he's been making for days.
There is no evidence that Biden or his son committed any crimes or did anything improper involving Ukraine. An investigation into the matter concluded there was no wrongdoing. But Giuliani persisted in his accusations, while Bartiromo was happy to help.
"Is there any way we're gonna see accountability for things like the Clinton campaign financing foreign accusations against Mr. Trump, all of these things, the Russia collusion situation, where Hillary Clinton paid for the dossier? I mean, there's all this other stuff that the media refuses to focus on," Bartiromo said.
"If there's not an investigation of these two things, five, six million that Hunter Biden got from a crooked Ukrainian company and the father getting him out in which there were at least four or five witnesses in Ukraine — they've been ready to testify for a year," Giuliani said.
"And our Ambassador was blocking them from coming to the United States. They've been trying to get this information to the FBI for a year. There's an FBI agent involved. The FBI agent who was investigating the allegations about dirt on the Trump campaign, she's now working for George Soros. She was working for George Soros back then. Soros' NGO was involved wit this whole thing."
Soros is a billionaire who supports progressive causes and has been a useful boogeyman for the right. He has frequently been the victim of Antisemitic conspiracy theories. Giuliani's decision to link Soros to the Ukraine/Biden story is an interesting development.
Giuliani also referred to the former Vice President's son as 'a guy who is drug challenged'. Hunter Biden has had difficulties with cocaine and is now in recovery. Giuliani seemed to relish mentioning this.
"Why would China give the money to a drug challenged private equity owner except to influence his father?" he asked, while again suggesting the Bidens had made money from the Chinese.
Giuliani continued to speak until he was cut off by a commercial break.
Watch the video above, via Fox Business.