'Morning Joe' On Trump Deporting Sick Kids: The Inhumanity Is What His Base Wants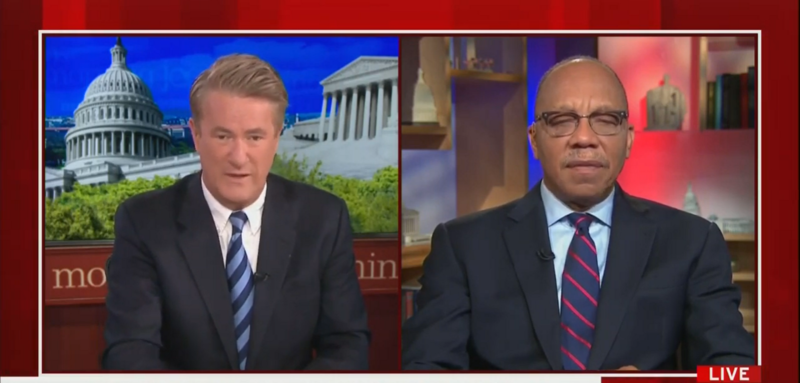 President Donald Trump's administration is planning to deport migrant children who have serious illnesses. The policy has been slammed by his opponents and on Friday's Morning Joe host Joe Scarborough and Washington Post columnist Eugene Robinson expressed their disgust at the idea.
"You know, Gene, here's another example of just an extreme position, an unduly harsh position that's not gonna make America safer," Scarborough said. "It's not going to lessen the number coming across the border illegally. Of course, again, it was at a 50 year low when Trump became president thanks to President Obama. This does nothing except show a harshness that the President obviously believes his base enjoys."
"He believes his base enjoys seeing this," Robinson said.
"Inhumanity," Scarborough said.
"It has the name Stephen Miller written all over it," Robinson said. "You know, the policy on immigration is being made by, you know, a bigoted anti-immigration zealot in the White House who is now the President's most influential adviser. Certainly on immigration, Stephen Miller is. And their policies are uniformly cruel and punitive and they seem to believe that somehow these awful policies act as a deterrent."
"It's disgraceful. I was just trying to think of what other leader, what other country in a world full of bad leaders, but who else would do this? Who would say let's deport some desperately sick children? It's just — you could not — you could not write this in your worst sort of dystopian fantasy. But this is — this is where we are in the United States of America in the year 2019. It's just appalling."
"It is appalling and again, using inhumane — again, using inhumane policies that aren't going to have an impact on the flow of immigrants coming to the United States," Scarborough said.
"Again, the purpose — the inhumanity of the policy proposals themselves and the policies are actually the ends. They're not a means to an end. They're a political end for the President and what he thinks that his base wants to see."
Watch the video above, via MSNBC.