In Bizarre Socialism Segment, Fox Hosts Agree: Nobody Has Ever Finished A Game Of Monopoly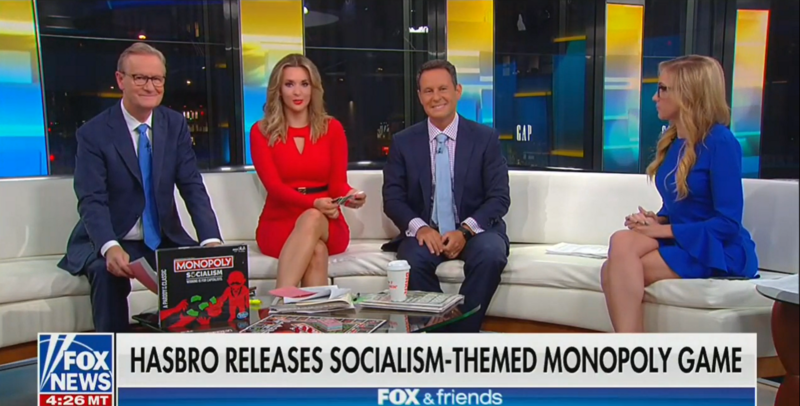 Fox & Friends ran a strange segment on Friday morning focusing on a new version of the board game Monopoly. While their aim was obviously to mock socialism, which is the theme of the new game, the hosts managed to criticize Monopoly itself, undermining the whole point of the segment.
Fox Nation's Kat Timpf joined the hosts, which included Katie Pavlich filling in for Ainsley Earhardt. The new Monopoly is designed to mock socialism and has received some criticism online, but Fox & Friends enjoyed amplifying its pro-capitalist message.
The discussion of the game itself was largely uninteresting, but then the hosts turned to the original version of Monopoly. While holding Monopoly up as a a good way to understand capitalism, they also admitted they didn't really enjoy playing it.
"But people should understand the concepts of Monopoly are the fundamentals of capitalism in a fun way which drives you nuts," co-host Brian Kilmeade said. "And I'm never smart enough to invest in those hotels because I don't want to spend the money."
"That's short term," Steve Doocy said.
"How long does it take to play a game of this Monopoly?" Pavlich asked.
"Monopoly in general is far too long. I don't think I have ever completed a game," Timpf said.
"Nobody has," Kilmeade said.
"Whenever I start to lose I yell at my brother and do something else," Timpf said.
"We leave it on the kitchen table. It's there for weeks. And we sit down and do it," Doocy said.
Watch the video above, via Fox News.