'DWTS' Host Upset by Spicer Casting, Had Hoped Show Would Be A 'Joyful Respite' From Politics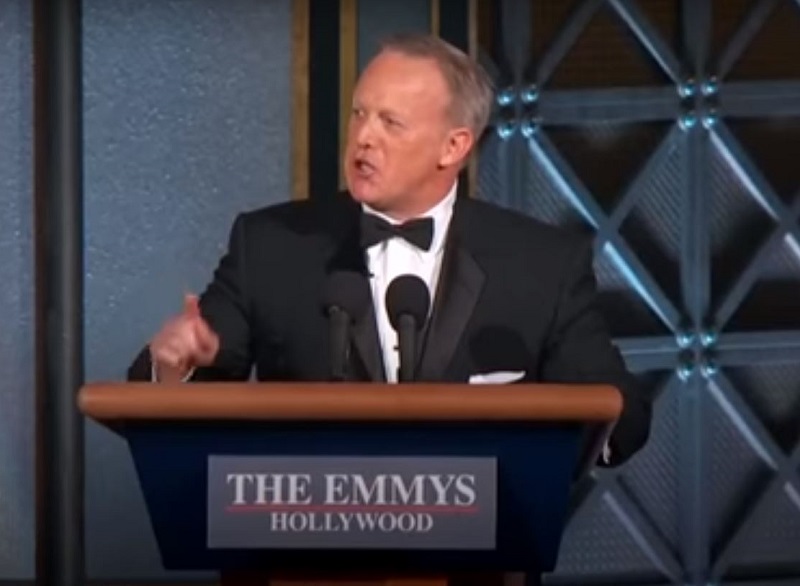 ABC announced this week that former White House Press Secretary Sean Spicer will appear on the next season of Dancing With the Stars this fall. And the show's co-host, Tom Bergeron, is disappointed about it.
Bergeron released a statement on Wednesday expressing his displeasure with the show's producers opting for what he called a "divisive" booking:
A few months ago, during a lunch with DWTS' new Executive Producer, I offered suggestions for Season 28. Chief among them was my hope that DWTS, in its return following an unprecedented year-long hiatus, would be a joyful respite from our exhausting political climate and free of inevitably divisive bookings from ANY party affiliations…Subsequently (and rather obviously), a decision was made to, as we often say in Hollywood, "go in a different direction."
There is some passive voice and careful wording here, but it is clear Bergeron strongly disagrees with that direction.
Spicer is not the first controversial guest from politics to grab a guest spot on DWTS. In 2009, former House Majority Leader Tom DeLay participated on the show while he was under indictment and awaiting trial on money-laundering charges. As if that wasn't enough of a cloud, just before the season began he added his voice to the birther movement when he told Chris Matthews he wanted Barack Obama to produce a copy of his birth certificate.
Dancing With the Stars is also not the first entertainment industry property to draw criticism for helping Spicer launder his reputation after his stint in the White House. In 2017 the Emmys wheeled Spicer out to satirize some of his best-known moments as press secretary. That gimmick angered people on both sides of the political aisle who saw the former press secretary as a symbol of everything wrong with the Trump administration.
Read Bergeron's entire statement below.
Some thoughts about today pic.twitter.com/aCQ4SHrGCI

— Tom Bergeron (@Tom_Bergeron) August 21, 2019