'Morning Joe' Panel: Trump Is Worried His Trade War Will Ruin Christmas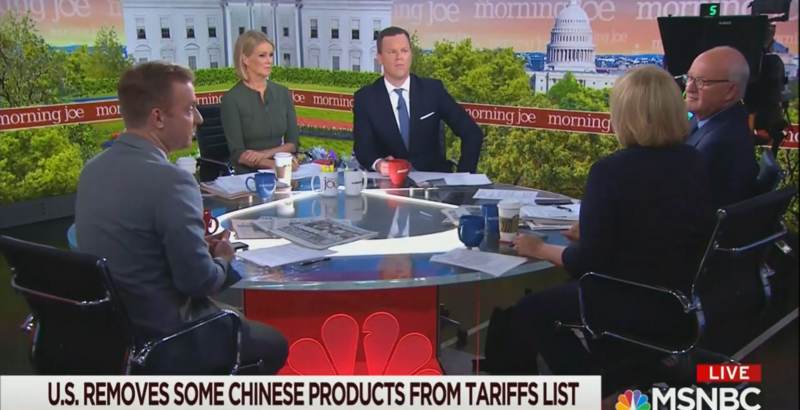 President Donald Trump appears to be backing down on his trade war with China and Morning Joe's panel on Wednesday thought they knew why. Former Senator Claire McCaskill and MSNBC's Rick Tyler agreed that tariffs on Chinese goods were affecting consumer costs.
McCaskill pointed out that Trump is in a difficult situation if the tariffs continue into the Christmas spending season.
"He's in a lose-lose situation because either he goes through with his bluster about China and the stock market tanks or he doesn't, and he is a big loser because he can't get a deal with China So he really, he's in a box canyon here," McCaskill said.
"I mean, he acknowledged yesterday the first time that he is consistently and constantly lied about tariffs. He acknowledged that the American consumer pays the costs of tariffs. What does Christmas have to do with it if China is paying for it? Christmas has nothing to do with it in China is paying for it. The only reason Christmas is relevant, because that means Americans are going to be paying more for their Christmas presents and it's going to cost them more, and that will come back on him."
"So he finally acknowledged and, you know, maybe reporters today will say, well, why would Christmas make a difference if China is paying for it? and I'm sure he would lie and pivot, but it is really important that this is the beginning of him acknowledging the big fat lie he's been telling from day one about tariffs."
Later in the segment, Rick Tyler explained how rising costs wouldn't matter if China was, in fact, paying money into the US Treasury.
"It's a terrible, terrible tax, and who does it hurt the most? It hurts poor people the most," Tyler said.
"And this idea that we have some ability — if we had an ability to tax China, why wouldn't we tax China? I would tax China for everything, and then we wouldn't have to pay for anything. There's no about for a sovereign nation to tax another nation. There's no Chinese money coming into the US Treasury, as there is no ability for Mexican pesos to come into the US Treasury to pay for a wall. It's a charade designed to confuse people so they don't know, up from down."
"And as Claire said, this is a tacit acknowledgement of all that, that he's gonna to put it off so it doesn't ruin Christmas for people," host Willie Geist said.
Watch the video above, via MSNBC.