Fox News Hosts 'Almost Feel Bad' For 'Human Piñata' Joe Biden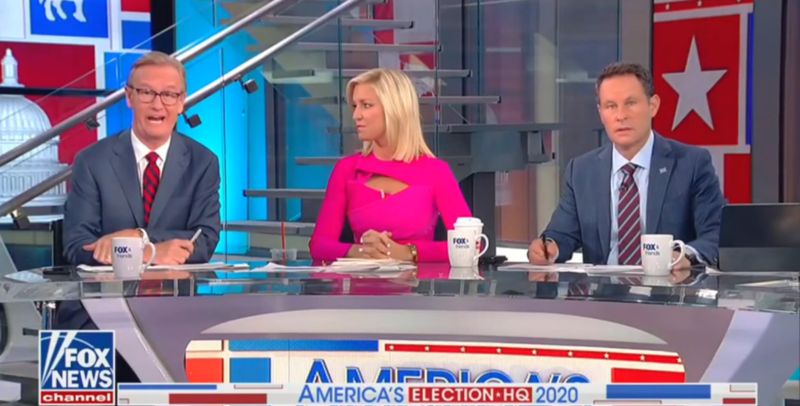 The hosts of Fox & Friends spent some time Thursday morning defending former Vice President Joe Biden following Wednesday night's Democratic presidential debate. Biden was the target for a lot of candidates' criticism and the Fox hosts appeared to side with the front runner.
Throughout Thursday morning, Fox & Friends had painted Biden as a centrist or moderate assailed by left-wing Democrats. This is not the first time Fox News has defended Biden against his more progressive opponents, while he is often portrayed as a bumbling old man elsewhere on the network.
Fox & Friends showed a compilation of clips from the debate of Democrats attacking Biden, which the hosts suggested painted him in a sympathetic light.
"I almost feel bad when they attack Joe Biden," co-host Brian Kilmeade said. "It's almost as if the look on his face is really, I campaigned for you. I raised money for you. You begged to visit me in the White House and now you're yelling at me."
There is nothing to support Kilmeade's claim that any of the Democratic candidates 'begged' to be invited to the White House.
"Welcome to politics!" Steve Doocy said. Biden has been in politics since the 1970s.
"Here's what happened," Doocy went on. "Joe Biden went into the second debate last night as the front runner. And when you're the front runner, you have a target on your back. And he was the human piñata. Jimmy Kimmel last night summarized it beautifully. He said it was Joe vs. the volcano."
While Fox & Friends spends much of its time attacking any and all Democrats, there has been a consistent trend of defending Biden against left-wing criticism and suggesting he would be a better choice than the other candidates.
Watch the video above, via Fox News.