In Bid to Prove He Is Not Racist, Trump Calls African-American Don Lemon 'The Dumbest Man on Televison'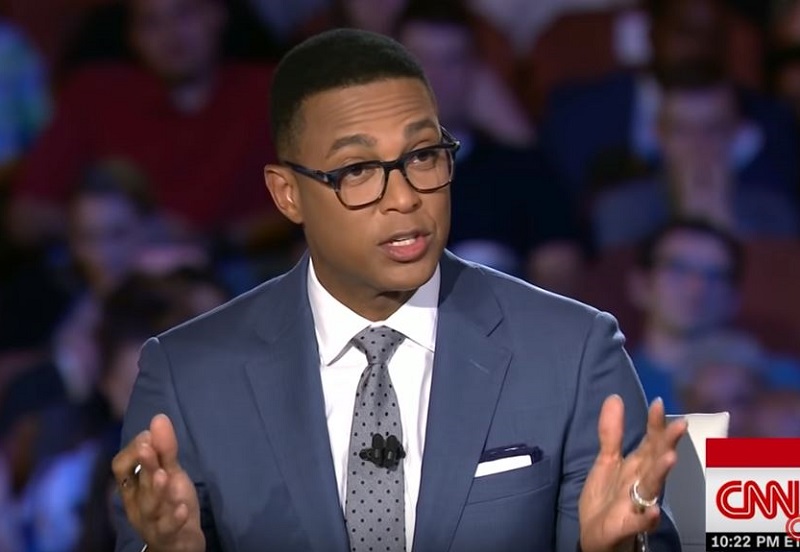 President Trump tore into Don Lemon on Twitter late Wednesday morning, calling the CNN anchor "dumb" and clarifying that this also means Lemon is "stupid."
Nice that someone installed a thesaurus on his phone:
CNN's Don Lemon, the dumbest man on television, insinuated last night while asking a debate "question" that I was a racist, when in fact I am "the least racist person in the world." Perhaps someone should explain to Don that he is supposed to be neutral, unbiased & fair,…..

— Donald J. Trump (@realDonaldTrump) July 31, 2019
….or is he too dumb (stupid} to understand that. No wonder CNN's ratings (MSNBC's also) have gone down the tubes – and will stay there until they bring credibility back to the newsroom. Don't hold your breath!

— Donald J. Trump (@realDonaldTrump) July 31, 2019
As Matthew Gertz of Media Matters pointed out, there is a good chance Trump was responding to a segment on America's Newsroom on Fox:
Trump criticism of Don Lemon comes roughly an hour after David Asman claimed on Fox that Lemon "essentially saying President Trump is a racist" shows "an absolute disregard for finding facts.

Left, Fox News, 10:31 a.m.
Right, Trump, 11:31 a.m. pic.twitter.com/6Sn6wtElRj

— Matthew Gertz (@MattGertz) July 31, 2019
What were the questions that Lemon asked that had Asman accusing him of "essentially saying President Trump is a racist?" There are two in the debate transcript. First, Lemon asked Beto O'Rourke this:
"Congressman O'Rourke, President Trump is pursuing a reelection strategy based in part, on racial division. How do you convince primary voters that you'd be the best nominee to take on President Trump and heal the racial divide in America?"
Later, he asked Amy Klobuchar a question with a similar theme:
'Senator Klobuchar, what do you say to those Trump voters who prioritize the economy over the president's bigotry?"
That Trump is leaning into racism as a re-election strategy — to the extent he even thinks about strategy — is undeniable. His own advisors have admitted they think his recent racist broadsides at minority congressional representatives are good for his poll numbers with the Republican base.
And Lemon has good reason to call Trump a racist. The president has disparaged him before, most notably saying after a 2011 interview that Lemon could not be an unbiased reporter because he is African-American…an assertion that is in itself racist.