Fox Nation Host Compares Defending Baltimore To Defending MS-13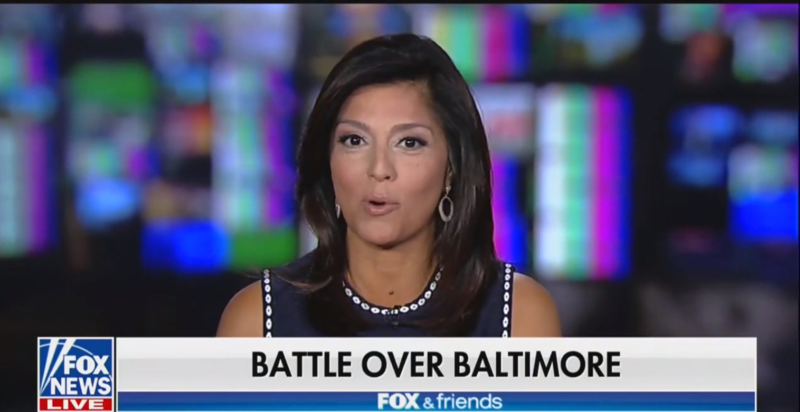 Fox & Friends defended President Donald Trump's racist attacks on Baltimore and Representative Elijah Cummings on Tuesday morning by turning to Fox Nation host Rachel Campos-Duffy. She repeated the lie that Speaker of the House Nancy Pelosi had defended MS-13 and ignored Trump's racist remarks.
"You know their backs are against the wall when they go to this sort of reflexive, racist claim," Campos-Duffy said of Democrats.
"The bottom line is that Donald Trump managed to get Democrats to band together to defend the indefensible, which is Baltimore and other urban cities' deplorable conditions and he's done this before, remember, he got Nancy Pelosi to defend the indefensible which was MS-13 when he dared today call them, you know, evil murderous gangsters, animals and she came to the defense of MS-13."
This is a long-debunked lie.
"I think minorities themselves are getting tired of this racist, as I said, reflexive answer to everything and actually if you've been watching this — these reports and people in local and national news have been going into Baltimore and interviewing the people who actually live there and they're grateful for the spotlight and they are, yeah, guess what, this is one of the deadliest cities in America."
"Homicides are up by 18% this year and there are actually rats photobombing the live shots of some of the reporters who are going in there which are actually making the case for what the President said."
Trump's tweets did not make it clear that he was referring to actual rats, but rather seemed like he was attacking the people of Baltimore. A recent news report says the homicide rate has risen by 16%, not the figure Campos-Duffy claimed.
Watch the video above, via Fox News.