Mueller Hearing Fizzles in TV Ratings, Draws Far Fewer Viewers Than Comey or Kavanaugh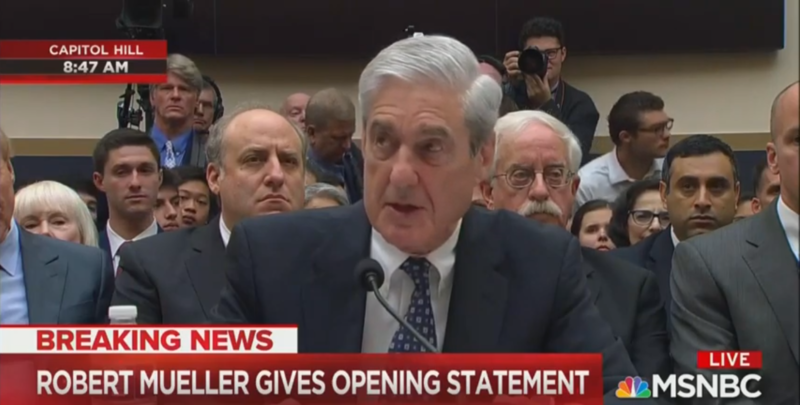 Despite all the hype and years of waiting, Wednesday's House testimony of former Special Counsel Robert Mueller drew only middling television ratings, pulling in far fewer viewers than other comparable recent hearings featuring former FBI Director James Comey and Supreme Court Justice Brett Kavanaugh.
The 7 1/2 hours of hearings in front of the House Intelligence and Judiciary Committees, which aired between 8:15 AM and 3:45 PM ET, drew a total audience of just under 13 million viewers across broadcast and cable news networks.
The hearings, which the New York Times described as lacking "electricity," featured Mueller largely confirming what his report on Russian election interference found, with the former special counsel also claiming that President Trump could be indicted after he left office. Trump and his allies, meanwhile, took a victory lap after the hearing was over.
Fox News led the way in total viewership for its coverage of the Wednesday hearings, drawing a shade over 3 million viewers. MSNBC followed in second place, nabbing 2.41 million viewers overall. ABC finished in third place with 2.12 million total viewers, followed by NBC (1.99 million), CBS (1.91 million) and CNN (1.52 million).
In the key 25-54 demographic, NBC took first with 536,000 viewers while ABC grabbed the silver with 489,000. Fox News snagged third with 441,000, followed by CBS (406,000), CNN (365,000) and MSNBC (347,000).
CBS, meanwhile, is currently off in 10 million households because of the dispute between AT&T and several providers such as DirecTV and Nexstar.
While 13 million is a decent daytime audience for a weekday and represents a noticeable bump over the average viewership, it pales in comparison to recent televised hearings. In February, former Trump lawyer and fixer Michael Cohen's Congressional testimony drew a television audience of 16 million. Last year, Kavanaugh's contentious and dramatic Supreme Court confirmation pulled in roughly 20 million viewers. And in 2017, Comey's hearing totaled 19.5 million.