Mueller Shoots Down Trump's Claim That He Interviewed For FBI Director Job After Comey's Firing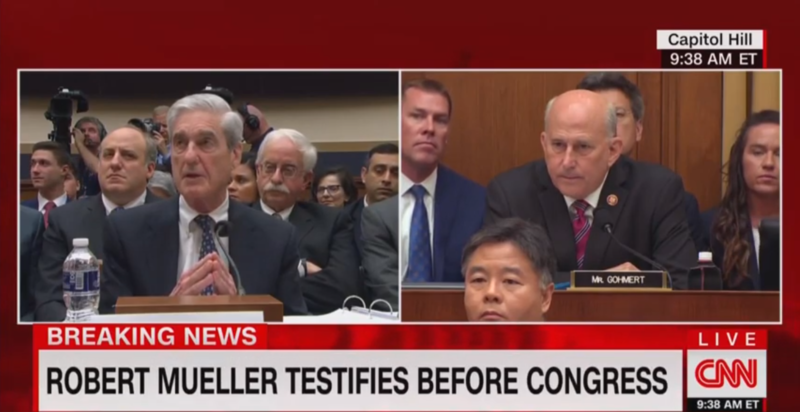 Special Counsel Robert Mueller has said he was not a candidate for the position of FBI Director in the Trump administration, directly contradicting President Donald Trump's claim. Mueller has now stated publicly and under oath that the President's claim is false.
Mueller was testifying before the House Judiciary Committee and the matter was raised by Republican Congressman Louie Gohmert. He wanted to know how close Mueller was to former FBI Director James Comey, who was fired by Trump.
"A 2013 puff piece in the Washingtonian about Comey said basically when Comey called you dropped everything you were doing, gave examples, you were having dinner with your wife and Comey calls you, drop everything and go," Gohmert said.
"The article quoted Comey as saying if a train were coming down the track and I quote, at least Bob Mueller would be standing on the tracks with me. You and James Comey have been good friends or were good friends for many years, correct?"
"We were business associates. We both started off at the Justice Department," Mueller said.
"You were good friends. You can work together and not be friends but you and Comey were friends," Gohmert pressed.
"We were friends," Mueller conceded.
Gohmert went on to say that Mueller was interviewed for the position of FBI Director following Comey's firing – a claim the President has made many times, including in a series of tweets this morning.
"When you talked to President Trump the you were appointed special counsel, you were talking to him about the FBI Director position again," Gohmert said.
"Not as a candidate," Mueller said briefly.
Trump claimed this morning, however, that: "It has been reported that Robert Mueller is saying that he did not apply and interview for the job of FBI Director (and get turned down) the day before he was wrongfully appointed Special Counsel. Hope he doesn't say that under oath in that we have numerous witnesses to the interview, including the Vice President of the United States!"
Mueller continued to give short answers or swat away questions from Gohmert for the remainder of the congressman's time.
UPDATE
Special Counsel Mueller continued to maintain that while he interviewed about the FBI Director's job, he was not a candidate for that position. When asked about it again by Republican Greg Steube of Florida, he made it clear that he was not interviewing for the job. He also denied he told Vice President Mike Pence that he would join the administration for that position.
Watch the video above, via CNN.