Fox's Brian Kilmeade: Ask Mueller If Putin Was 'Desperately Scrambling' To Contact Trump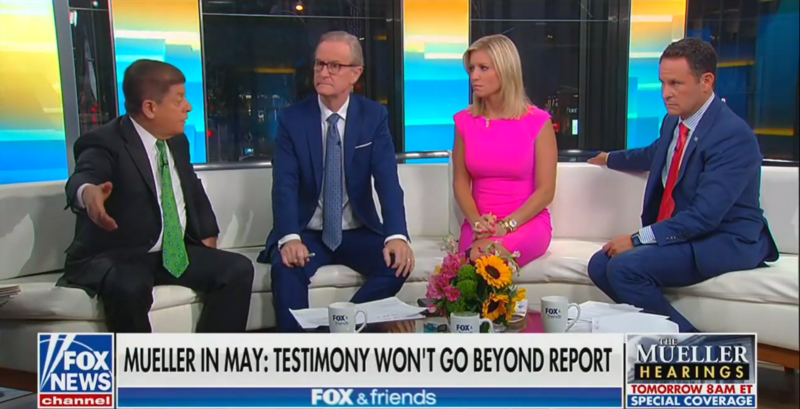 Fox & Friends hosted Judge Andrew Napolitano to discuss Special Counsel Robert Mueller's upcoming congressional testimony. Though the judge's preview of Wednesday's hearing was pretty bland, Fox News host Brian Kilmeade had some suggestions for Republicans.
Napolitano explained what questions Republicans and Democrats could potentially ask Mueller and their lines of attack. He said there probably won't be much new information – congressional Democrats disagree – but Kilmeade had his own idea.
"Isn't it true, Mr Mueller, that Vladimir Putin was desperately scrambling after Donald Trump won the election to get some type of contacts to the Trump administration because they didn't exist," Kilmeade said, posing his own question.
"Because he talks about oligarchs and communications to banks and other people because Putin did not know anybody with the Trump campaign," Kilmeade concluded.
In fact, there is evidence to suggest that members of the Trump campaign, including the President's son, Donald Trump Jr, met Russians connected to the Kremlin during 2016. Moreover, intelligence agencies found that Russia did interfere in the election to help Trump win.
"All those, in my view, are valid questions," Napolitano said, without acknowledging the substance of Kilmeade's claims.
Watch the video above, via Fox News.