MSNBC's John Heilemann Compares Trump To George Wallace: Things Are Only Going To Get Worse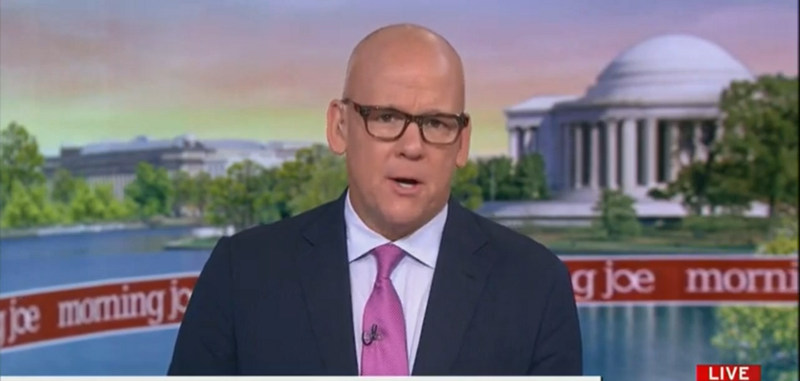 MSNBC's Morning Joe spent much of Thursday morning expressing horror about President Donald Trump's rally where his supporters chanted 'Send her back!' in reference to Democratic Congresswoman Ilhan Omar. National affairs analyst John Heilemann had a particularly bleak view.
"Where does that put us as a country? Where does that put our politics?" host Joe Scarborough asked.
"Well, I think in an incredibly depressing and you know, I think dangerous place, you know […] I think you said in the 6 o'clock hour, Joe, that it was the low point for the Trump presidency," Heilemann said.
"I think last night, and there have been a lot of low points, but last night, I think, really was the low point in the sense that the President's racism and bigotry and idiocy have been on display on many occasions, never more glaringly than this week."
"But to see the President of the United States standing at a rally, I think there's no way to interpret what he did yesterday other than to say that he's placing a target on the back of a United States citizen. He's saying — he's inciting, whipping up a frothy chant of violent impulses among his followers towards a United States citizen, an elected member of Congress."
"I mean, I have had very low standards when it comes to what I expect from Donald Trump," he said.
"But I never thought I'd see a President of the United States — he's picked on private citizens before. He's never incited violence against an individual private citizen in quite this way. And I feel as though you can feel the temperature is rising."
"You know, the kind of predictions that people have made that we could be heading into a 1968 kind of, 1972 kind of, George Wallace kind of campaign."
"And as bad as things are right now, and they are really bad and really ugly and really dangerous, they are just going to get worse. And at this moment, I think that causes — should cause everyone who does not want to see violence in American political life to be very afraid."
Watch the video above, via MSNBC.