Fox's Pete Hegseth Is Wearing A Flag Bow Tie. That's Technically Illegal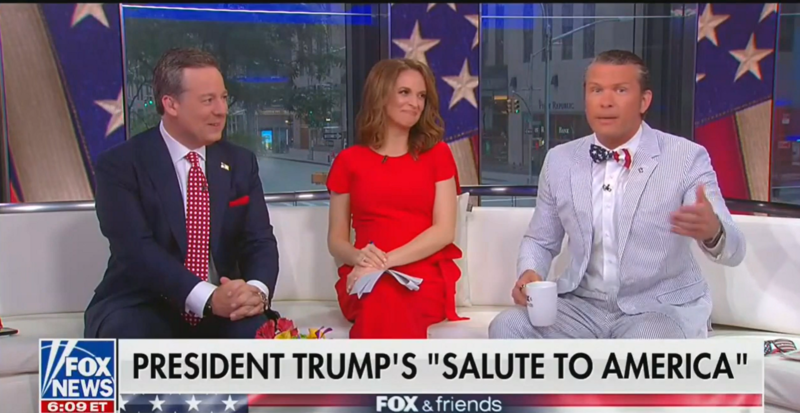 Fox & Friends went all out for the Fourth of July.  On the United States' national holiday, there was almost no other topic on the Fox News' flagship morning show and a lot of soft news celebrating the holiday. Fox will cover President Donald Trump's military parade later today.
One thing that particularly stood out was the use of the American flag. The Fox & Friends studio was decorated with images of the Stars and Stripes while co-host Pete Hegseth wore US flag bow tie. Hegseth was the only host to wear the flag as clothing and he definitely meant it as a tribute. However, his bow tie is technically illegal.
According to 4 US Code § 8 'The flag should never be used as wearing apparel, bedding, or drapery'. The statue goes on to say 'The flag should never be fastened, displayed, used, or stored in such a manner as to permit it to be easily torn, soiled, or damaged in any way.' This law is closely followed by the US military. Hegseth is a veteran.
The Fox News host appears to be in violation of the law for respecting the flag. He was also drinking coffee while wearing it, risking stains or damage. To make matters worse, Hegseth wore the bow tie while arguing that the flag should be respected. Hegseth was defending Trump's 'salute to America' following backlash.
"He's got George Washington's job," Hegseth said. "If you actually think back, that is the job that Donald Trump currently has today. Fly that flag big and proud, whether it has 50 stars or 13 on it in a circle."
Hegseth was referring to Nike sneakers featuring the Betsy Ross flag, which were pulled from sale. If sneakers feature the current US flag, they are also in violation of US code. But Hegseth didn't seem to know that.
"I want a pair of those so bad," he said. While it's common for many people to wear the US flag as clothing, it is still against the law and a news channel that makes huge claims to patriotism should probably know that.
Check out the video above to see Pete Hegseth's illegal tie, via Fox News.