Newt Gingrich: Sick People From The Entire Planet Will Sneak Into The US For Free Healthcare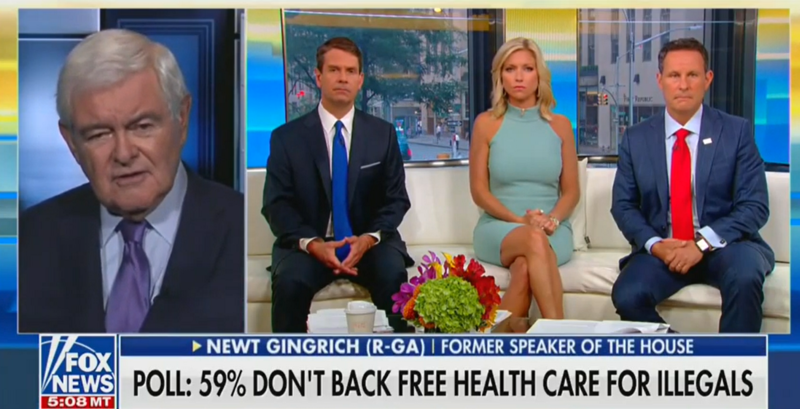 Former Speaker of the House Newt Gingrich joined Fox & Friends Tuesday morning to attack Democratic presidential candidates. The Republican was covered a number of topics, including the southern border and Representative Alexandria Ocasio-Cortez. But his comments on healthcare for migrants were the mos striking.
The Fox News hosts asked Gingrich what he thought of Democrats who agreed that undocumented migrants should be given access to free healthcare in the United States.
"I think it's crazy and I think people think it through, if you say to the entire planet, if you get sick and sneak in to the US, we will provide you free healthcare, we are asking for an unending flow of people coming here to get healthcare."
"Yep," co-host Brian Kilmeade said.
"At a time when there are a lot of Americans who have a hard time paying for their healthcare, there's something infuriating about a Democratic Party which has decided it cares more for people who break the law," Gingrich said.
"That's what we're talking about – people who break the law coming into the US"
"Democrats care more about them than it cares about taking care of people who need help here in the United States. I think it's pretty crazy. But it fits everything else we're seeing. It doesn't matter in the end hot Democrats are going to nominate. It's going to be essentially the same ideologically left wing person. Totally out of touch with the average American."
Kilmeade and Gingrich went on to lament the left-wing drift of the Democratic Party. While Gingrich is obviously being hyperbolic, his central argument is that providing healthcare for migrants will serve as a pull factor for immigration. This ignores the very real reasons people enter the US illegally, such as fleeing terrible situations in their home countries and desperation.
Watch the video above, via Fox News.