Fox's Judge Nap: Roe v. Wade Was The Worst Decision Since Dred Scott Slavery Case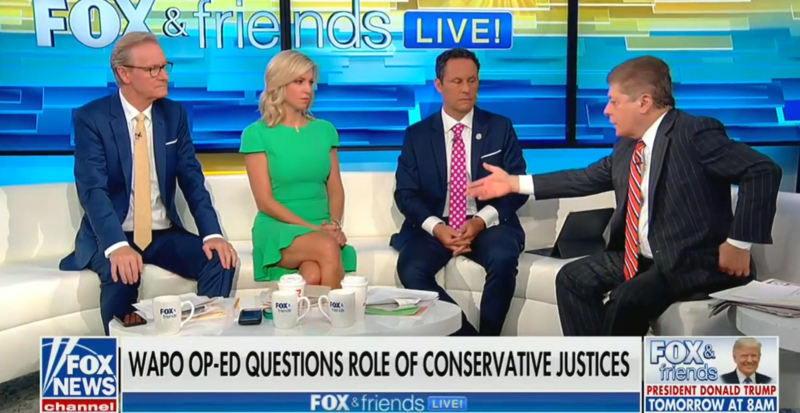 Fox's Judge Andrew Napolitano effectively compared abortion to slavery Thursday morning. Speaking on Fox & Friends, Napolitano compared the landmark abortion rights ruling, Roe v. Wade, to a notorious Supreme Court case upholding slavery.
Napolitano was on the show to discuss an article in the Washington Post about the Supreme Court and the took the opportunity to mention abortion, unprompted. He also defended the judges President Donald Trump has appointed to the top court since taking office.
"Donald Trump has put two serious legal scholars who are in the traditionalist vein on the Supreme Court. That's the type of person he promises to put there," Napolitano said to applause from the studio audience, an occasional feature of the show.
"There is a fear that they're losing the court," co-host Brian Kilmeade said. "So they want to change things."
"What they really fear is that Roe v. Wade may go away," Napolitano said. "This is the most abominable decision since Dred Scott v. Sandford."
Napolitano's comments were met with applause from the audience. The Dred Scott decision of 1857 stated that black Americans were not citizens under the Constitution and exacerbated the debate around slavery, striking down the Missouri Compromise that limited it.
This is the second time in two days that guests on Fox & Friends have discussed abortion and race in the same segment. On Wednesday, Alveda King claimed that a Pro-Life person could not be racist. That segment misinterpreted comments made by Democrat Kirsten Gillibrand. It's increasingly common for Pro-Life conservatives to compare abortion to slavery.
Watch the video above, via Fox News.