Trump On D-Day: Americans Pray To A 'Righteous God', Veterans Built 'A National Culture'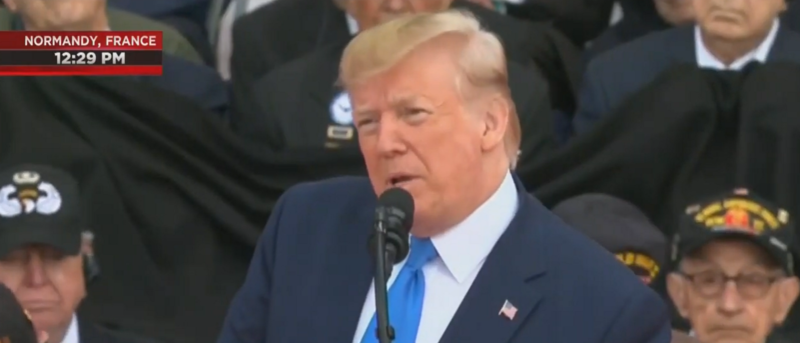 President Donald Trump delivered a speech Thursday morning on the 75th anniversary of the D-Day landings. The speech was well-written and hit all the necessary marks for a commemoration of this kind, praising the sacrifice of World War II veterans, stressing the importance of US allies and emphasizing the fight for freedom.
Towards the end of his remarks, however, Trump struck a nationalistic and even boastful tone as he spoke about the United States' achievements in the years since the war. Trump invoked God and said that America is stronger now than it has ever been.
"And with God as their witness they were going to get it done," Trump told the assembled dignitaries in France.
"They came wave after wave without question, without hesitation and without complaint. More powerful than the strength of American arms was the strength of American hearts. These men ran through the fires of Hell, moved by a force no weapon could destroy: the fierce patriotism of a free, proud and sovereign people."
"They battled not for control and domination, but liberty, democracy and self-rule," Trump said. "They pressed on for love of home and country, the Main Streets, the schoolyards, the churches and neighbors, the families, and communities that gave us men such as these."
"They were sustained by the confidence that America can do anything because we are a noble nation with a virtuous people, praying to a righteous God. The exceptional might came from a truly exceptional spirit. The abundance of courage came from an abundance of faith. The great deeds of an army came from the great depths of their love. As they confronted their fate, the Americans and the Allies placed themselves into the palm of God's hand."
"They came here and saved freedom and then they went home and showed us all what freedom is all about," the President went on. "The American sons and daughters who saw us to victory were no less extraordinary in peace. They built families, they built industries, they built a national culture that inspired the entire world."
"In the decades that followed America defeated Communism, secured civil rights, revolutionized science, launched a man to the Moon, and then kept on pushing to new frontiers and today, America is stronger than ever before."
His speech will no doubt be praised for striking the right tone and perhaps seeming conciliatory towards European nations, but the overt religiosity and clearly nationalist phrasing of this section must have been deliberately planned.
Watch the excerpt of the speech above, via MSNBC.