Rush Limbaugh Claims Migrants Coming Across Southern Border Is Just Like D-Day Invasion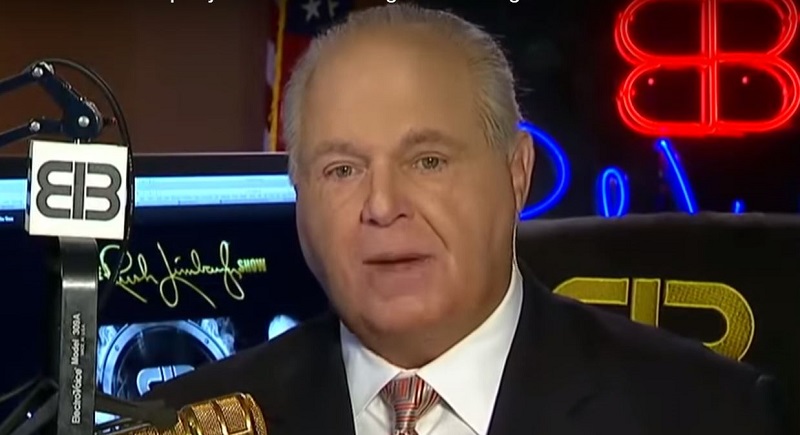 There was a nice moment on Rush Limbaugh's show today. It lasted exactly two minutes and 40 seconds before the radio host reverted to his usual racism and nativism.
Limbaugh had come back from a commercial break to talk about D-Day and the immense sacrifices made by so many thousands of young soldiers whom the world honored on Thursday:
"We're looking at a total of 150,000 Allied troops who were a part of the mission. One hundred fifty thousand. That number was outmanned and outgunned by the Germans…Our landing force was outnumbered and outgunned, by the time you add it all up it was 150,000 people, and they pushed through, uprooted, and forced into retreat the Germans."
The invasion of Normandy really was quite an extraordinary feat, which is why world leaders are in France right now making speeches to crowds of veterans of the invasion, a group that gets smaller and smaller every year.
Then Limbaugh got to the point he wanted to make:
"Now just to put that in perspective, yesterday officials from the CPB, Border Patrol, announced that agents encountered more than 144,000 undocumented illegal aliens at the border in May. In one month. Some might say an invasion force similar to that which stormed the beaches at D-Day. Same number of people, pretty much."
Limbaugh admitted this is not a military force, but "it nevertheless is an invasion." He went on to complain about the number of migrants–over a million–who have allegedly crossed the border this year and video he has seen of "swarms" of people getting past border fences.
It was a nice two and a half minutes of Limbaugh telling a hell of a story, and telling it well, followed by a turn into nativism so sharp it might leave heads spinning.
Listen to the segment above, via Media Matters.