'The Federalist' Publishes Fluff Piece on GOP Senators Without Disclosing They're Author's Clients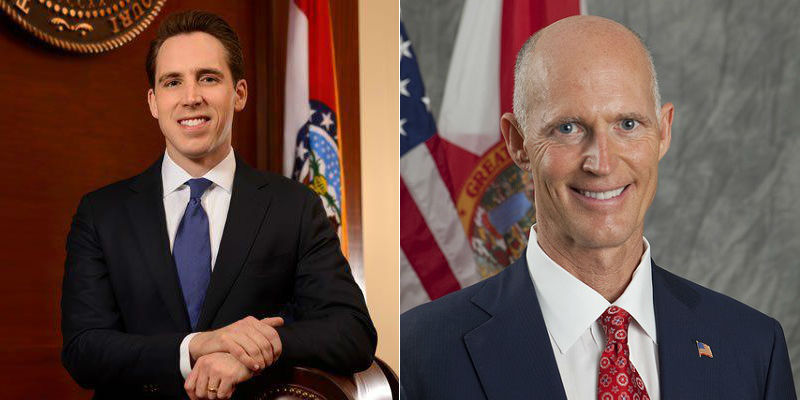 When is a political opinion column actually a paid press release written by a Republican consultant for his high-profile clients in the Senate? Let's ask The Federalist.
The conservative online magazine published a column on Wednesday in which Brad Todd, who runs the Republican political consulting firm OnMessage, hyped Sen. Josh Hawley of Missouri and Sen. Rick Scott of Florida as possible leaders of the GOP's post-Trump "fusion of populism and conservatism as a workable and ideological political movement."
There is only one problem here, as Christian Vanderbrouk of The Bulwark noted on Twitter:
The Federalist printed an op-ed by political consultant Brad Todd explaining how Senators Josh Hawley and Rick Scott represent the future of conservatism, and they didn't disclose they they're clients of his firm.

Nice work if you can get it!https://t.co/K8OogwglDR pic.twitter.com/dX0bOPPaqH

— Christian Vanderbrouk (@UrbanAchievr) June 5, 2019
In fact, both senators leaned heavily on the firm during their election campaigns in 2018, with Scott in particular paying OnMessage tens of millions of dollars, mostly for media buys.
Hawley's campaign paid OnMessage millions as well, and is still paying OnMessage for services in 2019.
After we reached out to The Federalist founder Ben Domenech for comment, and several hours after the column was published, the magazine stealth-edited the disclaimer at the end. Where it originally said that "Todd's clients have included nine U.S. senators, three governors, and more than two dozen congressmen," it now states that Todd is "co-founder of OnMessage Inc., a leading Republican firm that has advised Sens. Rick Scott and Josh Hawley among others."
Todd also was the co-author with journalist Salena Zito of a post-2016 book called The Great Revolt: Inside the Populist Coalition Reshaping American Politics. Zito later came under fire for mischaracterizing the political leanings of some of the people she interviewed for the book and some of her other journalism.