'Fox & Friends' Wonders: Are The Democrats Running A Parallel Government?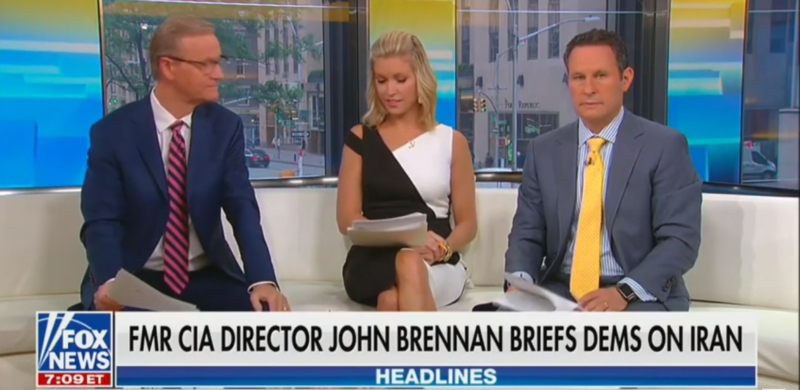 Conspiratorial language wasn't absent from Fox & Friends Wednesday morning but one issue in particular riled up the Fox News hosts. Democrats in Congress have been receiving advice from former CIA Director John Brennan on Iran, which the Trump administration may be preparing to attack.
Brennan is a vocal critic of Trump and a target of Fox News vitriol. Fox & Friends host Brian Kilmeade saw something suspicious in Democrats consulting Brennan on a key national security issue, despite his credentials. They have also been speaking to a former State Department official from the Obama administration.
They showed a clip of Republican Senator John Kennedy accusing Brennan on wearing a 'tin hat', presumably an attempt to accuse him of being a conspiracy theorist, as some of Brennan's critics have suggested. While his co-hosts framed Kennedy's comments comically, Kilmeade struck a more serious note.
"You just have to wonder, are they running a parallel government?" Kilmeade said. "You have a Secretary of State, you have a CIA director who have better intelligence than anybody else."
"The person they're talking to has been out of power now for three years and has security clearance taken away. And if they need to know something about Iranian deal, look it up. It's about four years old. And know this: the Senate didn't even pass it with the majority."
Brennan's security clearance was revoked due to his criticism of Trump, a move that was widely criticized.
"So it's not even a popular or effective Iranian deal or else Barack Obama would have passed it treaty 60 votes in the Senate," Kilmeade said, ignoring Republican obstruction in the Senate at the time.
"So to have John Brennan come in, and Wendy Sherman come in and brief them about a deal that's two and a half years old as opposed to the reasons behind the USS Abraham Lincoln going into the Persian Gulf. And moving all of our assets and our nonessential people out of Iraq. I find that astounding."
The term 'parallel government' is similar to 'deep state' in its suggestion of a secret government working against the Trump administration. It's worth noting that Democrats in Congress are part of the actual government.
Watch the video above, via Fox News.