Fox Hosts Joke That Congress Will Question An Empty Chair, Box Of Chicken If McGahn Defies Subpoena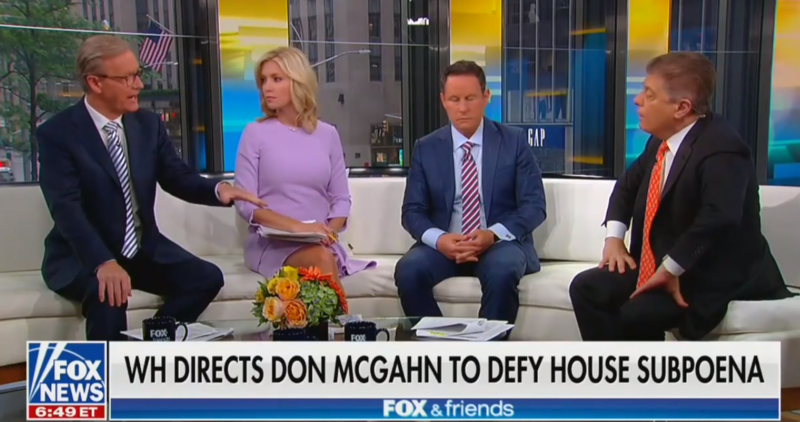 Defying a congressional subpoena is not normal behavior from a current or former government employee, so former White House Counsel Don McGahn's decision not to appear before Congress should be worrying, particularly as it comes at the direction of President Donald Trump.
On Fox News, however, defying Congress is a humorous subject, if Tuesday's Fox & Friends is any indication. Fox's Judge Andrew Napolitano joined the hosts on the couch to defend McGahn's apparent decision to defy the subpoena and defend Trump's decision to order him to do so.
"So what does Don McGahn do?" Napolitano said. "He doesn't work for the President anymore? He's back at private practice in a suburb firm Jones Day, that's behind the Fox building in Washington, D.C. Can he defy the President and show up? Yes, he can, but he would have very, very serious legal ethics issues because when your former client says, 'Don't tell what you learned while you were representing me', you can't speak that until a judge authorizes you to."
Whether Napolitano's interpretation is legally correct or not, he tends to be hit and miss in his defense of the President, the Fox & Friends hosts were clearly happy for McGahn to skip testifying, choosing to make light of a serious constitutional issues.
""If he doesn't show up and he has the empty chair, are they going to question the empty chair like they did when William Barr did, with the box of chicken?" Ainsley Eardhard quipped, in reference to Attorney General William Barr's refusal to appear.
"Are they gonna eat chicken wings again? I think that's a little silly. They have chosen that political mantra," Napolitano said.
Watch the video above, via Fox News.