MyPillow, Tucker Carlson's Biggest Advertiser, Lays Off 150 Employees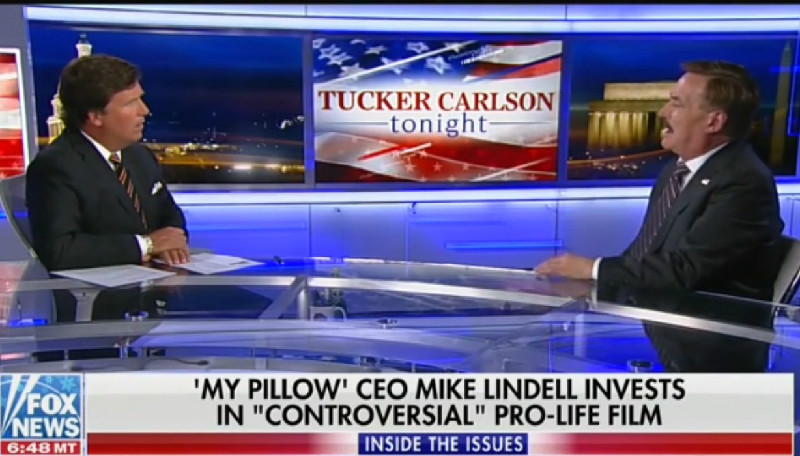 My Pillow CEO and founder Mike Lindell announced this week that the bedding manufacturer will be laying off 150 employees from its factory in Shakopee, Minnesota. According to Lindell, the layoffs are a byproduct of his company launching a new online venture called Mystore.com, which will apparently be an "online store for entrepreneurs and inventors to sell their products."
The company has become inextricably tied to President Trump and Fox News due to Lindell's outspoken conservative views, over-the-top praise for the president, and ubiquitous presence of MyPillow commercials during Fox programming.
In the wake of a sustained and debilitating advertiser boycott of Fox News primetime star Tucker Carlson following the conservative host saying immigrants make America "poorer and dirtier," MyPillow has emerged as Tucker Carlson Tonight's most reliable sponsor. With dozens of companies pulling their ads, MyPillow has regularly run multiple 2-minute ads per broadcast to help fill Carlson's dwindling ad load.
These layoffs, meanwhile, come just months after Lindell boasted that the president's tax cuts created an economic boom that made it easier for business owners to hire workers and pay them more.
"After more than 500 days with Donald Trump as our president — with record-low unemployment and a booming economy — it's clear, Minnesota, that we can rest easy," he wrote in a June 2018 op-ed. "As a proud American business owner, I have seen firsthand the positive changes President Trump's policies are bringing to our state. Because of the president's historic tax cuts, I was able to give my employees an immediate across-the-board pay raise to help fuel their lives and advance their careers."
This isn't the first time that Lindell has slashed jobs at his company. In 2017, MyPillow laid off 140 employees shortly after bringing on 500 new workers. While the culprit was production outpaced sales, Lindell placed the blame on "bad press" after the company had its Better Business Bureau accreditation pulled over misleading advertising.