Andrew Sullivan Lectures MSNBC's Zerlina Maxwell For Citing 'Complete Fantasist' Malcolm Nance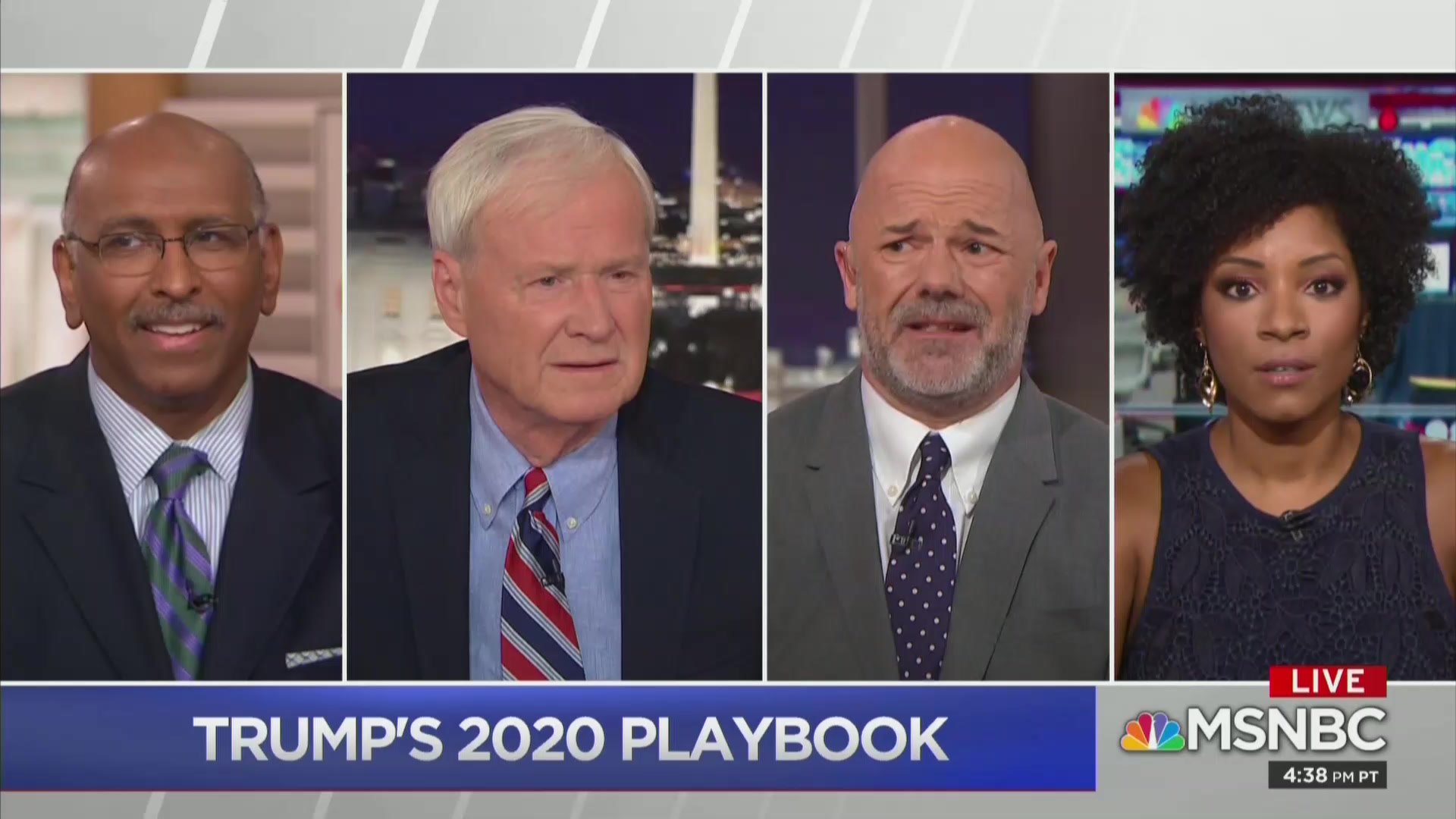 At the end of a Hardball segment that saw conservative writer Andrew Sullivan claiming President Trump will win re-election because there are open borders and Democrats don't want "to stop uncontrolled immigration," MSNBC political analyst Zerlina Maxwell found herself on the receiving end of Sullivan's wrath after she cited a network colleague.
During the Tuesday evening debate on the upcoming presidential election that also featured former RNC chairman Michael Steele saying Democrats could lose because they want "abortion on demand," Sullivan said that mass immigration was the most important factor in all of Western politics and why Europe was turning to neo-fascism.
Attempting to cite MSNBC analyst Malcolm Nance's book The Plot to Destroy Democracy to make a point about immigration, Maxwell was immediately chastised by Sullivan.
"Jesus Lord, you're recommending that guy?!" Sullivan shouted, prompting Maxwell to stand by her citation.
"He's a complete fantasist," the former New Republic editor declared, referencing the criticism Nance has received over his allegations and claims surrounding the Russia probe. Host Chris Matthews, meanwhile, curiously asked who they were talking about, considering Nance is a regular network contributor and guest on Matthews' program. (Though, in fairness, Matthews may not have initially heard Nance's name.)
"This guy Malcolm Nance," Sullivan said to Matthews before tuning back to Maxwell. "He's spread so many conspiracies and nonsense — and you're citing him?!"
"I just wanted to articulate the point I was making which is that he ties it historically to the rise of white nationalism throughout Europe," Maxwell replied. "And so that is something that is tied to the debate on immigration."
Sullivan, meanwhile, got the last word in, telling Maxwell that she either had to "choose between mass Immigration or liberal democracy — you can't have both."
Following the segment, Maxwell took to Twitter to say that the silver lining was that more people may read Nance's book to understand Russia's role in spreading white nationalism in Europe.
Silver-lining: Maybe this will get more people to read @Plot2Destroy because it really helps you understand Russia's role in the rise of white nationalism all throughout Europe and in the US. That was actually my only point!

— Zerlina Maxwell (@ZerlinaMaxwell) April 17, 2019
"That was actually my point!" she added.
Watch the clip above, via MSNBC.