CNN's Stelter Reacts to Fox's '3 Mexican Countries' Flub: 'I Don't Know What Is Going on Over There'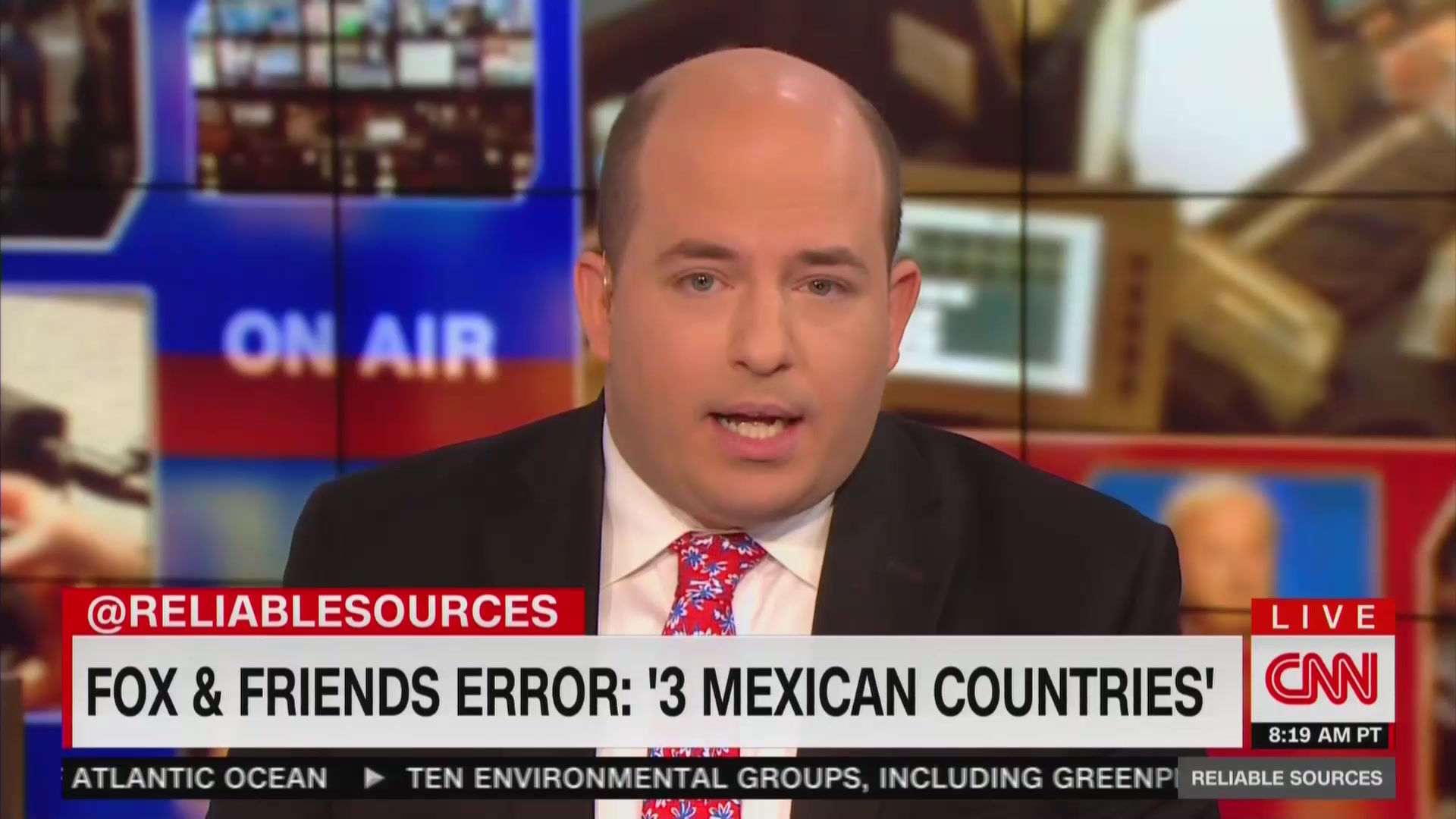 Hours after Fox & Friends Sunday aired a banner that read "TRUMP CUTS AID TO 3 MEXICAN COUNTRIES," CNN senior media correspondent Brian Stelter highlighted it in a Reliable Sources segment on Fox News programs pushing over-the-top and frightening rhetoric about immigration and the aftermath of the Mueller report, expressing concern about what's going on at Fox.
Stelter began the Sunday morning segment by noting Fox Business host and informal Trump adviser Lou Dobbs warned last week that immigration will lead to the deaths of "millions of Americans."
"Terrifying, right?" Stelter asked. "That's the whole point. It's nonsense but it's scary. You know, the president praised his Fox friends several times this week. He even got on the phone with Sean Hannity and chatted for 45 minutes and said he hoped Jeanine Pirro would be back soon."
The CNN media reporter went on to highlight Pirro's Saturday night return to Fox News airwaves after a two-week suspension, noting that the pro-Trump host called for the jailing of former senior FBI officials for their "attempted coup" of Trump, suggesting that former President Obama directed the Deep State mission.
"Don't even know what to say," Stelter reacted before moving on to Fox & Friends' banner flub.
"And if the president was watching Fox & Friends this morning, he saw this banner," Stelter noted. "It says 'Trump Cuts U.S. Aid to Three Mexican Countries.' The reference, of course, was to Central American countries. [Sigh] The network apologized several hours later and said the banner never should have appeared."
The CNN host then appeared perplexed, stating that was "obviously the case" but "I don't know what is going on over there."
He moved on to an interview with New Yorker columnist and CNN contributor Susan Glasser to discuss Trump's "best week ever" post-Mueller and how the president reacted to it, noting that Trump used it to go on a personal grievance tour.
Watch the clip above, via CNN.