Fox News White House Correspondent Excites QAnon Community With Since-Deleted Tweet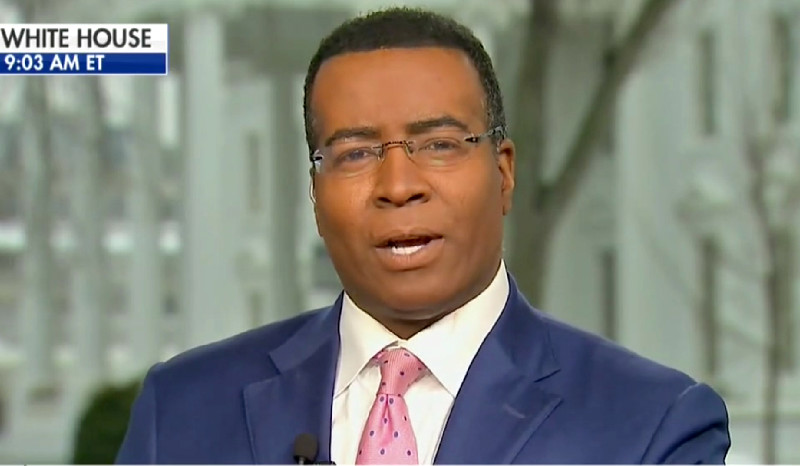 Fox News White House correspondent Kevin Corke briefly got the QAnon online community all worked up Monday when he tweeted a photo of a coffee cup emblazoned with the letter "Q," prompting followers of the cultish conspiracy theory to jump into his mentions and call on Corke to ask President Trump whether QAnon is real.
For the uninitiated out there, QAnon is an extremely dense, complex, all-encompassing conspiracy that alleges Trump has been working covertly to take down a cabal of child sex traffickers and pedophiles. According to the theory, this network consists of high-profile Democrats, liberal business leaders, and Hollywood stars. Also, QAnon adherents believe Special Counsel Robert Mueller's investigation is being used as a cover for Trump's secret mission, and all this info is being slowly leaked out on 8chan by a high-ranking administration official who goes by the moniker Q.
In his since-deleted tweet, Corke posted his photo with the following caption: "My kind of coffee…"
The original tweet was deleted. https://t.co/1f74JZBI6s pic.twitter.com/AsdRwnmIS6

— Travis View (@travis_view) March 25, 2019
Shortly after the Fox reporter's tweet was sent, QAnon accounts wanted to know if Corke was going to "ask the question." QAnon folks believe that White House reporters know that the conspiracy theory is real and this is why they never ask the president any questions about it.
Kevin Corke, a White House correspondent for Fox News, tweeted a picture of a coffee cup with a Q written on it.

When someone asked if Corke would "ask 'the question'" (meaning, ask Trump about QAnon), Corke responded with a flexed bicep emoji. pic.twitter.com/VdXISqfVgs

— Travis View (@travis_view) March 25, 2019
In response to one tweet, Corke posted a bicep flex emoji. He also reacted positively to other QAnon accounts while telling someone who asked him not to encourage QAnon believers by saying "lighten up my bother."
all good here pic.twitter.com/sYSpUa1mhi

— Travis View (@travis_view) March 25, 2019
Per Right Wing Watch's Jared Holt, Corke liked dozens of responses to his tweet "that contained pro-QAnon messages" before deleting the initial tweet.
While Corke seemingly indicated he was doing this as a joke, observers felt he was at least playing "footsie" with the QAnon folks.
Can you imagine that phone call from Fox News editorial?

"Can you please stop playing footsie with the 8chan political death cult? Thank you!" https://t.co/C6pIMgPWdE

— Ben Collins (@oneunderscore__) March 25, 2019
Fox News White House correspondent actively encouraging the QAnon conspiracy on Twitter today. https://t.co/9L5krRKE44

— Christian Vanderbrouk (@UrbanAchievr) March 25, 2019
This isn't the first time Corke has played around in the fever swamps. In mid-2017, he mass-deleted dozens of questionable tweets amplifying alt-right conspiracies after he was called out for quote-tweeting a video from an InfoWars editor that alleged voter fraud in the French presidential election.