Mike Huckabee: AOC Could Be 'The Manchurian Candidate' Whose Questions Are Prepared For Her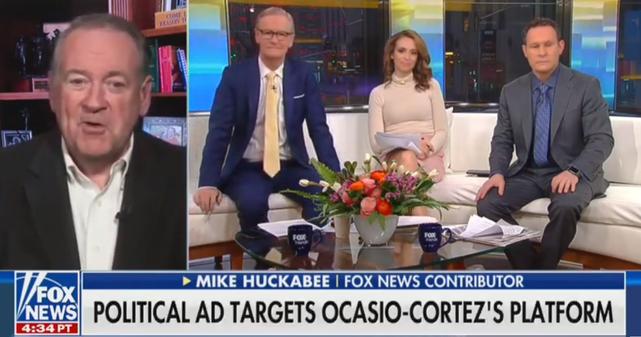 Former Arkansas Governor Mike Huckabee wondered aloud whether Alexandria Ocasio-Cortez is a genuine politician or controlled by other interests. Speaking on Fox & Friends Thursday morning, Huckabee engaged in speculation about the freshman Democratic representative.
"It's amazing how big a deal she has become, to be a 29-year-old with no major accomplishments to her credit other than making some really bizarre policy pronouncements about the new green new deal and getting rid of the Amazon jobs in New York," Huckabee said.
"She's making quite a name for herself and I hope she continues to be the face ever the Democratic Party. It's the best thing that Donald Trump and the Republicans have going for them in 2020."
"Somebody's writing her questions," Fox News host Brian Kilmeade said. "I saw the questions at Michael Cohen, and saw the questions at Wilbur Ross, and there are some forces behind her. I think there's a story there."
Kilmeade was referring to Ocasio-Cortez's performance during the congressional testimony of President Trump's former lawyer, Michael Cohen. A clip of her questions went viral and she was widely praised. Kilmeade advanced an unfounded and conspiratorial idea, which Huckabee quickly took up.
"Well, there very well could be," Huckabee said after a pause. "I know there have been some allegations that she was almost like the Manchurian candidate – recruited, prepared. You know, I don't know. The point is that she got her voters out. Now, I think there is going to be a lot of New Yorkers who would have loved to have seen those 25,000 Amazon jobs that may turn out in force and say thank you, but no thank you, bye-bye, two years is all we can handle."
Huckabee was referencing a novel and movie The Manchurian Candidate, in which a brainwashed communist sleeper agent who is central to a plot to take over the US government.
Watch the video above, via Fox News.