MSNBC's Mike Barnicle: 'Empty Vessel' Trump Has 'Stains On His Soul'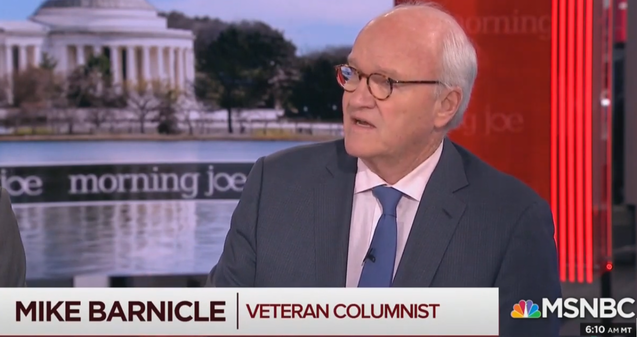 MSNBC's Morning Joe took President Donald Trump to task for his recent comments about the late Senator John McCain Wednesday morning. Host Joe Scarborough and frequent contributor Mike Barnicle shredded Trump and his supporters in the Republican Party.
Trump criticized McCain for his opposition to repeal of Obamacare and said he had never been a fan of McCain and never would be. The Morning Joe panel was appalled by his comments and the very few Republicans who had condemned them.
Scarborough suggested Trump had 'completely brainwashed' the GOP.
"You look what happened at CPAC, and they give speakers who attack the war hero standing ovations, and I will tell you, I know rank and file Republicans who call John McCain a, quote, traitor," Scarborough said. "A traitor, which is just disgusting. He's just the opposite of that. While Donald Trump was, you know, getting Ds and playing ping-pong and golf, you know, at some Ivy League school, John McCain was putting it all on the line for his family and here we are in 2019 and people that support Donald Trump  – how many deferments for bone spurs?"
"Calling John McCain a traitor – that is a sickness in the Republican Party," Scarborough said.
Following further discussion of GOP reaction and inaction following Trump's comments, veteran journalist Mike Barnicle agreed.
"And what does it say as, Willie [Geist] just pointed out, and you've mentioned a million times, Joe, what does it say about various members of the Republican Party, in the Senate, in the House, who know that the President of the United States, the sitting President, is a friendless, empty vessel? He's a lonely man. He's a man alone. He is what he is. He's a liar. He's cheated. He has all of these stains on his soul that are public, that people know, and they say nothing. They say nothing."
Watch the video above, via MSNBC.